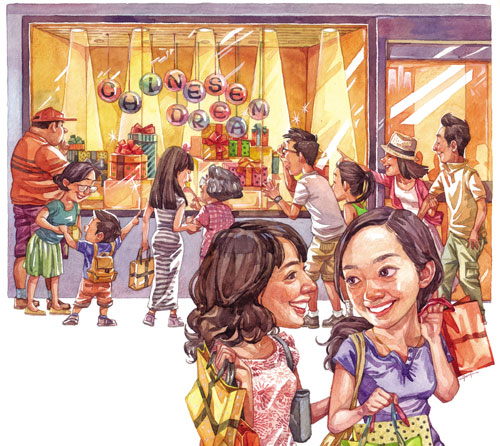 LI MIN/CHINA DAILY
Creating strong brand identity from Chinese Dream poses greatest challenge but offers biggest potential payoff
If your brand is not creative, not even slightly rebellious, then it may not live up to the Chinese Dream, according to a major new survey.
These are the qualities — along with being assertive, trustworthy, wise and friendly — that most match Chinese President Xi Jinping's vision for the country's next decade.
The foreign brands that already fit into these categories include
coffee
chains Starbucks Corp and Costa Coffee as well as ice-cream maker Haagen Dazs and restaurant franchise Pizza Hut.
Samsung Group, whose Galaxy hand-held mobile devices are a hit among Chinese consumers, also makes the grade, along with French cosmetics brand The L'Oreal Group, US sportswear giant Nike Inc and the caffeine-fueled energy drink Red Bull,
The Chinese brands that most live up to the dream qualities include electrical goods maker Haier Group, computer and investment company Lenovo Group Ltd, e-commerce giant Alibaba Group and global telecommunications heavyweight Huawei Technologies Co Ltd.
The findings come from a survey — The Power and Potential of The Chinese Dream.
It was conducted by advertising and public relations giant WPP Plc, which looks at how both foreign and Chinese companies can align their brands to the new zeitgeist sweeping China.
Some 2,400 consumers were surveyed for the report, around 800 in China and the same number each in the US and the UK, so that international comparisons could be made.
The report suggests there are risks for brand owners who ignore the Chinese Dream since in at least three vital product categories — fashion, electronics and groceries — what it calls "phases of dreaming" (being inspired, having fun and learning something) are now ranked as more important for Chinese consumers than among those in either the United States or the United Kingdom.