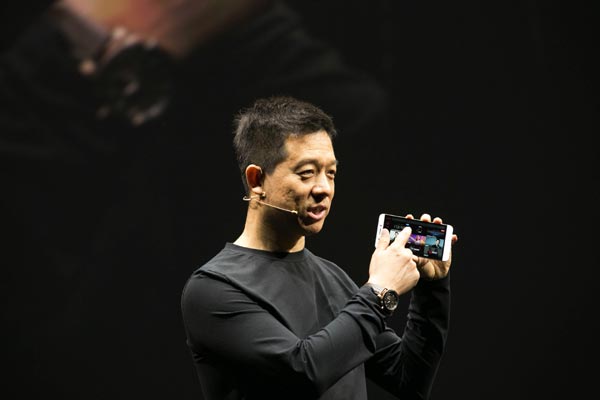 Jia Yueting, founder and chief executive of LeTV, shows the company's first smartphone at a news conference in Beijing on Tuesday. [Photo/China Daily]
LeTV Holdings Co Ltd will sell its smartphones in the United States later this year, challenging Apple Inc's iPhone, the company said on Tuesday.
The Beijing-based technology company, known for its online video-streaming services, unveiled three types of handsets in a bid to take on the iPhone 6 Plus and Mi Note, produced by another Chinese smartphone maker, Xiaomi Corp.
LeTV plans to offer Internet TV and video-streaming services in the US later this year.
The company introduced three large-screen smartphones with very narrow frames at an event in Beijing. The screen sizes of the devices were on par with or larger than the 5.5-inch iPhone 6 Plus.
It was the first time for LeTV to release smartphones. It launched smart TVs about two years ago.
"We are not making a smartphone, we are creating a new Internet-based ecosystem that even Apple will envy," said Jia Yueting, founder and chief executive of LeTV. He said the smartphones will also enter the Indian market later this year. The handsets will be available for delivery by mid-May.
Many Chinese smartphone vendors want a share of the consumer dollar in the US, which offers the highest average profit margins. Apple dominates the US smartphone market.
Lenovo Group Ltd, Huawei Technologies Co Ltd have also targeted mid-and high-end buyers but with scant success. Xiaomi is considering a debut for its popular handsets in the US, where it now only sells accessories.
Bryan Wang, China director of Forrester Research Inc, said the US is one of the most difficult places for any emerging player to penetrate. "About 90 percent of the phones (in the US) are sold via carrier channels a deep and healthy relationship with the carriers is vital," Wang said.
Profitability aside, the biggest market in absolute terms will be China for a long time. Feng Xing, senior vice-president of LeTV, said that this year's shipments will be "a few million" and next year's shipments will exceed 10 million.
LeTV is also using a new sales model by giving out phones free of charge to its long-term video content subscribers. The subscribers are asked to buy multi-year video-streaming services for the company's video portal.
Jia said that the company has gone on the offensive with its pricing strategy, which will push competitors to cut their own prices. The prices for the devices are below 3,000 yuan ($490), which Jia said are about 500 yuan less than devices with similar features.
Using a low price strategy, LeTV defeated Lenovo in the smart TV sector in 2013. The company said its first electric vehicle will come out soon. The car, rivaling Tesla Motors Inc's automobiles, is being developed in the US and will likely be made in the country.