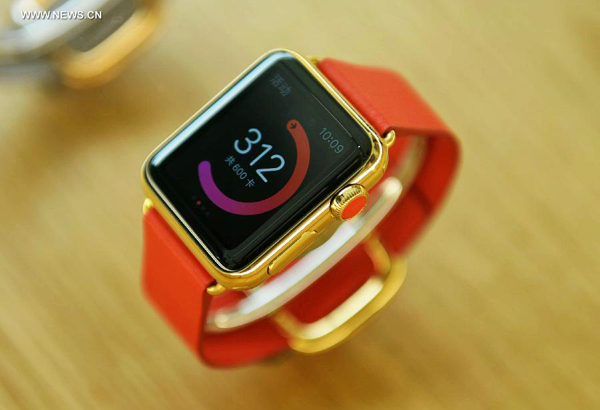 Photo taken on April 10, 2015 shows an Apple Watch with a price of 126,800 yuan at an Apple store in Hangzhou, capital of East China's Zhejiang province. [Photo/Xinhua]
The Apple Watch Edition that costs 126,800 yuan ($20,402) in the Chinese mainland were snapped up in less than an hour on April 10, according to Tech website businessInsider.com.
According to the report, just hours into sales in China, there was zero chance of grabbing an Apple Watch Edition, the most luxurious gold version of the latest wearable device launched by Apple Inc.
"Ben Thompson tweeted that he had checked every store there and at every one the device was listed as out of stock, but it remains unclear just how many units have been sold and shipped on Friday," the report said.
As of Monday afternoon, Apple China was not reachable to comment.
Currently all the eight versions of Apple Watch Edition are available to order on the company's Chinese website and they will be shipped in June.
According to prior reports from Reuters, CEO Tim Cook, interviewed on cable television channel CNBC, said initial orders were "great" for the device, available for preorder online and to try out in stores by appointment, but not to take home.
The watch goes on sale officially on April 24, online and through appointments in shops, includingtrendy fashion boutiques in Paris, London and Tokyo, part of Apple's strategy of positioning the wearable computer as a must-have accessory.
But soon after online preorders opened on Friday, Apple's website listed shipping times in June for some models of the watch and four to six weeks for others.
According to shopping data firm Slice Intelligence, some 957,000 people in the US ordered an Apple Watch on the first day the smartwatch was on sale. And the average buyer bought 1.3 watches, according to receipt data from 9,080 online shoppers. That would suggest more than 1.2 million Apple Watch units were ordered on Friday.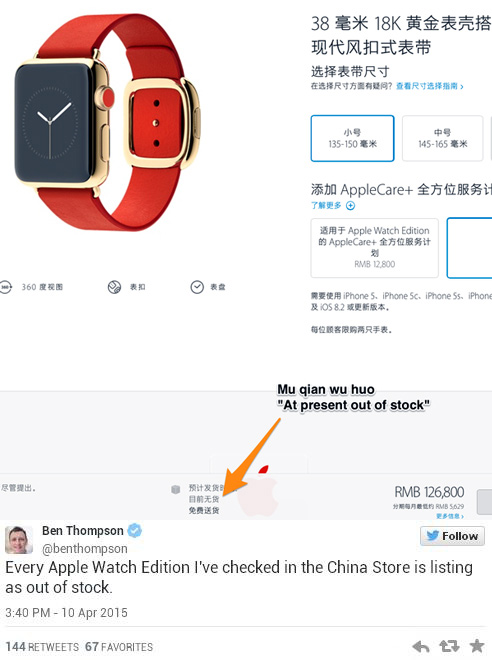 Screenshot shows a twitte posted on Ben Thompson's Twitter account on April 10, 2015. [Photo/Twitter]