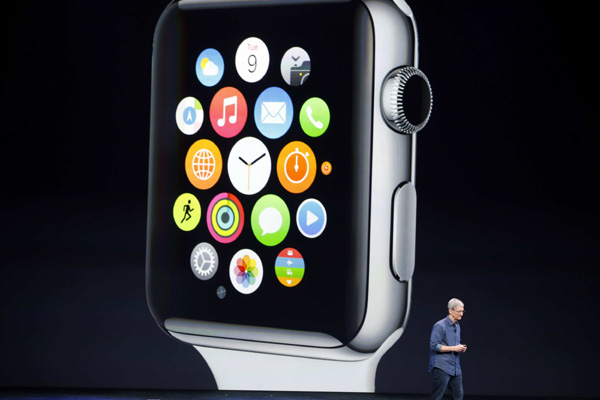 Apple CEO Tim Cook speaks during an Apple event announcing the iPhone 6 and the Apple Watch at the Flint Center in Cupertino, California, in this September 9, 2014 file photo. [Photo/Agencies]
Consumers in Australia flocked to Apple Inc's store in Sydney on Friday to get the world's first up-close look at the tech giant's smartwatch, which the company expects will be its next runaway hit.
The Apple Watch, CEO Tim Cook's first new major product, was available for pre-order online and to try out in stores - but not take home.
On April 24, consumers will be able to buy it online or by reservation at retail locations including high-end fashion boutiques in Paris, London and Tokyo, part of Apple's strategy of positioning the wearable computer as a must-have accessory.
On Friday morning Apple's Australian flagship store in Sydney's financial district was packed with those hoping to peek at the device, although just around 20 die-hard fans queued out front, modest by the standards of a major Apple launch.
Alexander Bock, a backpacker from Germany, stood outside the shop's towering glass facade. He hopes to save enough money to buy the sports version of the watch, he said.
The Apple Watch sport starts at $349 while the standard version comes in at $549 in the US High-end "Edition" watches with 18-karat gold alloys are priced from $10,000 and go as high as $17,000.
"I feel naked without a watch. I think I will buy the Apple watch with the sports band ... I'm working very hard right now so I can buy this watch," Bock told Reuters.
The watch marks the Cupertino, California company's debut in a fledgling wearable technology market.
Based on recent customer interest at its stores, Apple expects demand for the watch, which allows users to check email, listen to music and make phone calls when paired with an iPhone, to exceed availability at launch, it said on Thursday.
Reviewers this week praised the watch, which also helps users monitor their health and exercise, as "beautiful" and "stylish" but gave it poor marks for relatively low battery life and slow-loading apps.