Roughly 50 people joined a preview activity for the Apple Watch on Friday morning at the Apple Store located in a shopping mall in Sanlitun, Beijing.
"In order to build a new shopping experience for Apple's customers, we provide 38 units selected from the three collections on our newly designed Apple display tables," said an Apple Watch specialist during the preview.
According to the specialist, starting on Friday Chinese customers interested in learning more about Apple Watch can either make an appointment online or visit their local Apple Store for a personalized session with a specialist to try on, and explore the new features of Apple Watch.
One of the key questions regarding the Apple Watch is whether the existing iPhone users will purchase "Apple's most personal device".
"I'll choose one, probably the sports collection," said a visitor from Harbin, Northeast China's Heilongjiang province. According to the visitor, the payment experience could become easier and more convenient when using taxi apps as a click on the wrist to pay using Apple Pay is simpler than pulling out an iPhone from his pocket.
However, Apple Pay is current unavailable in the Chinese mainland and domestic mobile payment solutions from third parties were not shown on preview devices at the Apple Store.
As the pre-order process of Apple Watch begins, more third party apps designed for Apple Watch will be released in succession afterwards, one of Apple's specialists said.
Apple has released guidelines for third party developers on WatchKit, a development kit for developers to create apps for Apple Watch.
"Comparing with the existing smart band that I'm using for exercise, the sport collection is a bit heavier than I expected," said Mr Tong, who said he was willing to purchase an Apple Watch for monitoring daily health.
Although Tong is not a price-sensitive buyer, he expressed that compared with other sports brands of priced at 1000 yuan ($160) or below, the additional features presented by Apple Watch do not match the price.
According to a news release from Apple, pre-orders begin April 10 at 3:01pm through the Apple Online Store, the Apple Store app for iPhone and iPad, and select Apple Authorized Resellers in China and Japan. Customers who pre-order their Apple Watch can have it shipped for delivery beginning April 24.
Beginning April 24, Apple Watch will also be available at boutiques in major cities including Colette in Paris, Dover Street Market in London and Tokyo, Maxfield in Los Angeles and The Corner in Berlin, and select Apple Authorized Resellers in China and Japan.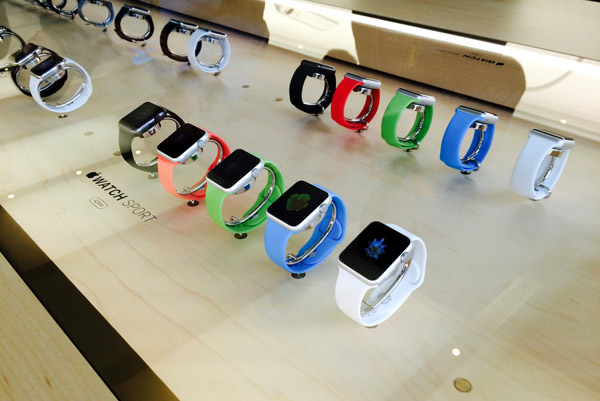 A group of Apple Watch are displayed on April 10, 2015 at the Apple Store located in a shopping mall in Sanlitun, Beijing. [Liu Zheng/chinadaily.com.cn]