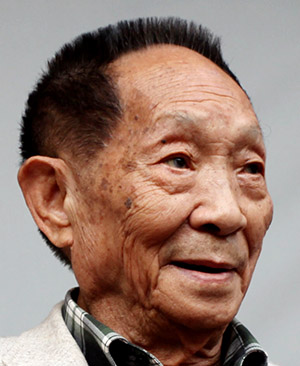 Yuan Longping, agricultural scientist and Yuan Longping High-Tech Agriculture Co founder  [Photo/China Daily]
China's agricultural authority is set to conduct more comprehensive assessments of hybrid rice varieties following a massive crop failure in Anhui province caused by abnormal weather conditions and rice disease.
The evaluations will focus on high yields and also the adaptability of varieties to different growing environments, including resilience to disease and insects, according to Zhang Taolin, vice-minister of agriculture.
"There will also be evaluations of the efficiency of fertilizers and the grain quality of hybrid rice," he said at a news conference at the State Council Information Office on Tuesday.
Hybrid rice seed provider Yuan Longping High-Tech Agriculture Co said on Monday that it will stop selling its Liangyou 0293 variety following widespread low yields or crop failure.
This affected more than 650 hectares of rice fields in six cities in Anhui in October.
The company blamed abnormal weather conditions, including low temperatures and persistent rain in June and July last year, for the crop failure as this variety is susceptible to rice blast fungus disease in such conditions.
Inadequate prevention measures also accounted for the crop failures, it said.
Agricultural scientist and company founder Yuan Longping, widely dubbed the "father of hybrid rice", said the crop failure in Anhui cannot serve as evidence that there are problems in all hybrid rice varieties.
"There is a chance that the Liangyou 0293 variety could have suffered a setback in quality after years of cultivation. There could also have been disease mutations," he told Hunan Daily.
"The average yield of hybrid rice per mu (0.07 of a hectare) has reached more than 1,026.7 kg to date. Even if the yield is reduced to 70 to 80 percent of that amount ... we can still improve the yield of the country's rice fields remarkably," he said.
Zhang, the vice minister, said hybrid rice remains an important part of the national strategy to ensure grain security.
"We need a variety that can adapt to different cultivation environments. However, evaluation of a variety is usually conducted in a specific area. If that variety is cultivated elsewhere, without adequate assessment, defects in the variety will be exposed," he said.
The Anhui crop failure has infuriated farmers, with many blaming the company for misleading advertisements. In Wuhe county, rice farmers were hit hard, with yields plummeting from an expected 500 kg to 50 kg per mu or even to zero.
The company said the farmers' losses will be covered by insurance and it will meet with them to discuss further measures.
As of last year, hybrid rice accounted for 30 percent of China's rice-growing area, with more than 9.07 million hectares of hybrid rice fields nationwide.