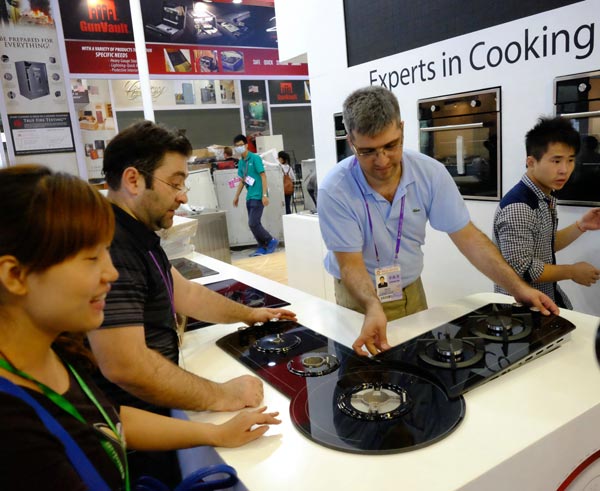 A Turkish company prepares for the Canton Fair. The trade event is held biannually in spring and autumn. It opened on Tuesday in Guangzhou, the capital of Guangdong province. [Photo/China Daily]
Orders at famed event seen as signal of the outlook for nation's export-oriented firms
Organizers of the latest China Import and Export Fair said transactions at the fair are expected to be stable even though China's foreign trade volume and exports both declined in the first three months.
The flagship event is closely watched as an important barometer of the country's future trade activity.
Speaking to China Daily a day after the trade figures were revealed, spokesman Liu Jianjun said the prediction was based on a series of positive conditions including increased demand from emerging markets, the implementation of policies to support trade, and a growing number of companies' involvement in self-innovation.
The General Administration of Customs revealed on Monday that China's foreign trade volume contracted 6.3 percent year-on-year in the first quarter, with exports declining by 14.6 percent in March from the same period a year earlier to $144.6 billion.
The trade event, widely known as the Canton Fair, is held biannually in spring and autumn and opened on Tuesday in Guangzhou, the capital of Guangdong province.
"Policies to boost trade development including financial and tax rebate measures will steadily take effect in the long term," said Liu, who is also deputy director of the China Foreign Trade Center.
The number of buyers from emerging markets including Southeast Asia, South Asia, South America and Africa are expected to increase during the spring fair, as this time of year is often a peak season for overseas purchasing in these markets, said Liu.
The number of buyers from traditional markets, however, including the United States, Japan, Russia and Europe is expected to fall as demand from those is still weakening
The Silk Road Economic Belt and 21st Century Maritime Silk Road initiatives, proposed by President Xi Jinping in 2013 to enhance regional connectivity and prosperity, and the establishment of the Beijing-championed Asian Infrastructure Investment Bank are also expected to boost trade demand from countries and regions along the "Belt and Road", said Liu.