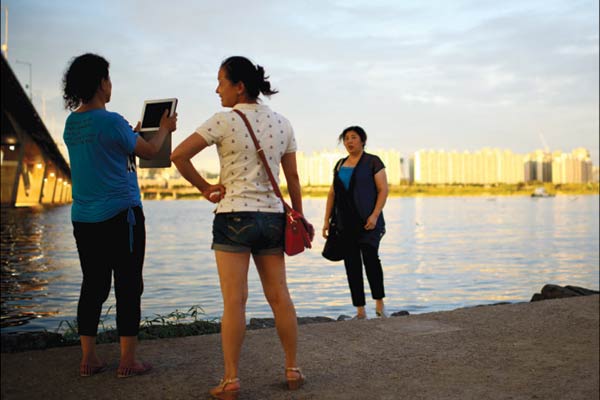 Chinese tourists take photographs by the Han River in Seoul. [Photo/Agencies]
China, the biggest outbound tourism market, will continue to make rapid strides with trips and overseas consumption, according to a report on Monday.
This is despite a slowdown in the growth of outbound tourist trips in recent years.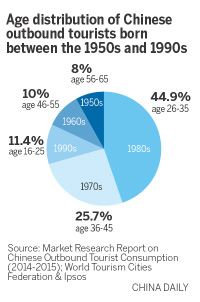 The report said the number of Chinese outbound tourist trips reached 109 million last year, up by 11 percent on the previous year and accounting for 9.58 percent of international tourists.
The Market Research Report on Chinese Outbound Tourist Consumption (2014-2015), was released by the Beijing-based World Tourism Cities Federation.
During the period reviewed, tourists spent $165 billion, an increase of 28 percent year-on-year. This consumption comprised 11 percent of international tourism revenues.
Wei Xiao'an, secretary-general of the China Tourism Leisure Association, said the outbound tourism market in China is embracing a "new normal" just as the economy did-referring to slower growth.
Last year's 11 percent growth compared with expansion of about 60 percent in 1997-98, when policies were introduced to encourage people to travel overseas.
But various factors, including simplified visa application procedures and easier tax rebate policies, will continue to boost growth in both the number of trips and spending, Wei said.
Based on a survey of more than 17,000 tourists who traveled abroad in the year up to April, the report found that Chinese tourists are switching from inbound to outbound tourism.
As a result, there is "huge potential in Chinese tourists' spending", the report said.
About 42 percent of the tourists surveyed said they were willing to spend as much as 20 percent of their living expenses on travel.