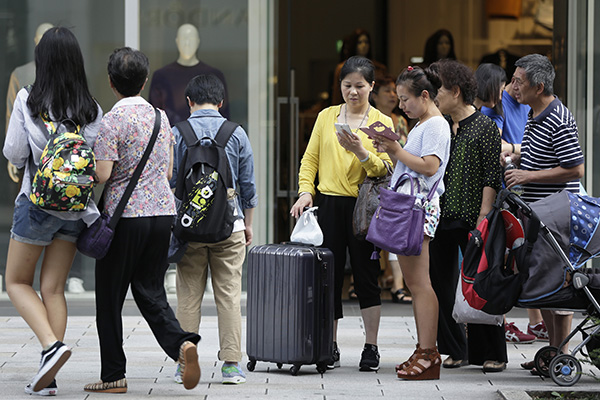 Chinese tourists visit Tokyo's Ginza district for shopping in August. Japan is the second-most popular overseas destination. [Photo provided to China Daily]
Outbound visits see 380 percent surge in summer
Thailand, Japan and Hong Kong became the most popular overseas destinations for tourists from the Chinese mainland during the summer's peak tourism season because of the host destinations' new visa policies and favorable currency exchange rates.
Meanwhile, the outbreak of Middle East respiratory syndrome in South Korea, the previous favorite destination, had mainland tourists headed elsewhere.
According to a report released on Monday by tuniu.com, a Chinese online travel agency in Nanjing, outbound visits in July and August increased 380 percent compared with the same period last year.
Asian countries and regions still ranked as the most popular destinations of Chinese tourists. However, South Korea, which was the first choice of Chinese tourists in 2014, fell out of the top five.
But tourism to South Korea has been slowly recovering since it became virtually free of the MERS virus at the end of July. Tuniu reported that visits to South Korea saw a 150 percent month-to-month growth in August.
July and August are traditionally the peak summer vacation months and account for 35 percent of the total trips made abroad during the year, the China Tourism Academy said.
Italy is also among the popular choices during the summer break, thanks to the Expo 2015 in Milan, said Yan Xin, publicity officer of Ctrip, a Chinese online travel agency based in Shanghai.
"Many tourists adjusted their European trips ahead of schedule because of the Milan Expo," Yan said. "The weakening euro also contributed to the growing number of trips to Italy, which increased more than 100 percent compared with the same period last year."
The China outbound tourism development report published by the China Tourism Academy, a think tank under the National Tourism Administration, said China continued to make rapid strides in the global tourism market, and is expected to see 16 percent more mainland tourists traveling overseas in 2015 than did so last year.
The number of mainland travelers from western regions, second-and third-tier cities and rural areas are expected to rise, the report said.