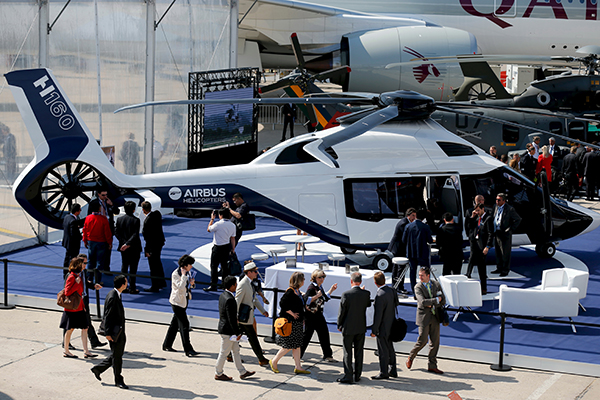 Visitors take a look at a H160 Airbus Helicopter during the 51st Paris Air Show at Le Bourget airport near Paris on June 17. [Photo/Agencies]

Aircraft maker expects to sell 60 more by the end of the year
Airbus Helicopters, a division of Airbus Group, is expecting to sell 60 aircraft to buyers on the Chinese mainland by the end of the year in a market which is "emerging and booming", according to its president in the country.
"We expect a 100 percent increase in orders each year, and estimate that around 50 to 60 helicopters made by us will have been sold here within the year," said Norbert Ducrot, on the sidelines of the Third China Helicopter Expo that concluded in Tianjin over the weekend.
Last year the European aircraft maker, previously Eurocopter Group before being renamed in January 2014, had 32 Chinese mainland orders.
Ducrot claims to have more than 40 percent of the mainland's civil-helicopter market, with around 150 civil helicopters made by the company being used by government departments and enterprises on the mainland.
Airbus Helicopters has supplied 12,000 aircraft globally to more than 3,000 customers.
Ducrot said he expects China to soon surpass the United States as the biggest civil market in terms of annual bookings, and says his company is poised to take advantage of its lucrative potential.
"If China's helicopter demand in the emergency medical services, for example, is to be fully satiated, then there could be a market for up to 3,000 aircraft," he said.
China is targeting more than 150 helicopters deliveries per year by 2020.
Ducrot said the individuals' market for helicopters on the mainland is still largely under-developed due to a host of factors, but "we are planning to set up more maintenance centers, train more pilots and expand our capacity to pave the way for those potential buyers to place more orders too".
Statistics from the Civil Aviation Administration of China show that the number of civil helicopters on the mainland increased from 387 in 2013 to 524 in 2014, a 37.5 percent rise.
Airbus Helicopters' most notable corporate order so far has been with China Minsheng International Financial Leasing Corp Ltd, a subsidiary of China Minsheng Investment, which has ordered 100 of its Ecureuil-series helicopters over the next five years. The first batch of 10 will be delivered next year.