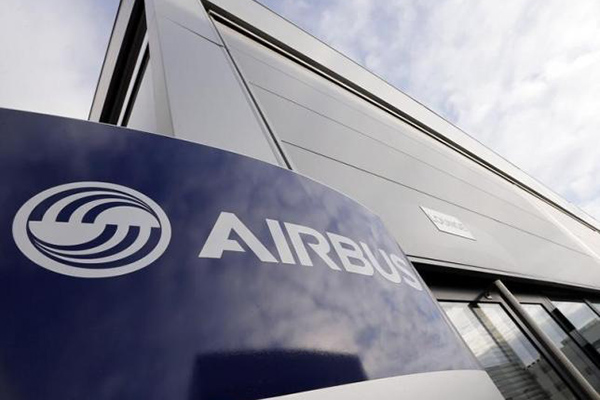 Airbus's company logo is pictured at the Airbus headquarters in Toulouse, December 4, 2014. [Photo/Agencies]
After Airbus's success it was the turn of engine makers to seek a boost from China's spending power on Tuesday as a major plane order generates lucrative follow-on opportunities.
China placed an order for 45 A330 wide-body passenger jets on Tuesday, with plans for a possible further 30 aircraft in a deal worth between $11 billion and $18 billion.
The order has now unleashed a battle between engine makers to win contracts with Chinese airlines who may ultimately benefit from the the aircraft purchase, industry sources said on Wednesday.
Engines are generally sold separately from aircraft.
The aircraft ordered by China are current-generation A330s, which are available with a choice of engines from three manufacturers: General Electric, United Technologies' Pratt & Whitney unit and Britain's Rolls-Royce.
Rolls-Royce is currently the market leader with its Trent 700 engine, but the Chinese order presents one of the largest available opportunities for rivals, notably GE, to jump in before Airbus switches to an exclusively Rolls-powered version of the A330, with a new engine, from late 2017.
Rolls-Royce appears to have the edge going into the sales battle, a person closely watching the discussions said.
The outsider is seen as Pratt & Whitney which is focused on completing a new engine design for smaller jets and has not been forceful in pushing its A330 engine in recent years.
Pratt & Whitney said it continued to support the PW4000 engines designed for aircraft such as the A330, and that it did not as a policy comment on specific order discussions. GE and Rolls did not immediately respond to requests for comment.
Shares in Airbus rose as much as 5 percent on the aircraft order, which eased uncertainty over future production rates for one of its most profitable models.