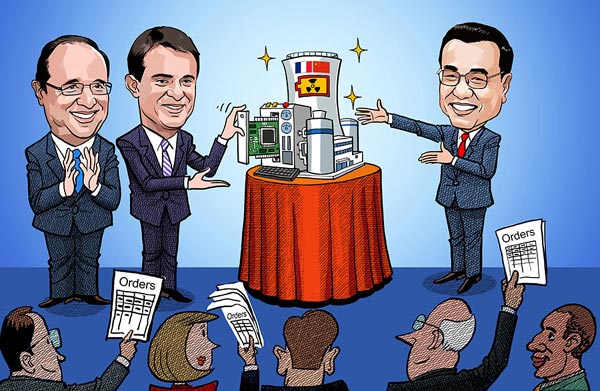 Graphics by China Daily
PARIS - China has signed a deal with France on purchasing 45 Airbus A330 passenger planes, French Prime Minister Manuel Valls announced Tuesday at a joint press conference with visiting Chinese Premier Li Keqiang.
"China is today the most important market for aviation in the world, we can be confident that air transport in China will continue to undergo rapid growth," Airbus CEO Fabrice Bregier said in a statement, hailing the deal, which is among the highlights of the Chinese premier's first official visit to France since he took office.
In talks and later the joint press conference with Valls, Li called for the two sides to expand cooperation in industry, energy and third-party markets.
Li suggested that the two sides deepen industrial cooperation in fields including aviation and space, high-speed railway, steel, nuclear, oil and hydro power while increasing added value and jointly exploring third-party markets.
The Chinese premier also noted that China and France should step up cooperation in such areas as agriculture, food, health, digital economy, ocean and polar region development as well as energy efficiency.