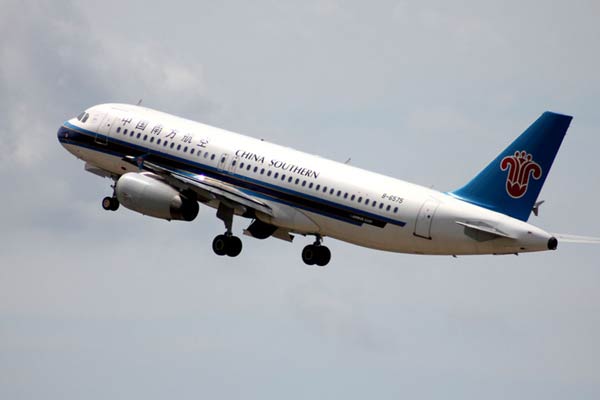 An Airbus A320 jet plane of China Southern Airlines takes off from Sanya Phoenix International Airport in Sanya city, South China;s Hainan province, July 18, 2012.[Photo/IC]
China will need 5,363 new passenger aircrafts and freighters from 2014 to 2033, as the country will have the world's largest domestic air traffic within 10 years, Airbus SAS forecast on Wednesday.
The new aircraft market in China will be worth $820 billion during the period, the company said. The nation will account for 17 percent of global demand, which will exceed 31,000 new aircraft.
Both domestic and international passenger traffic in China will increase faster than the world average level, the European aircraft manufacturer said in its 2014-33 Global Market Forecast.
The number of people flying in China will exceed that in the United States in 2023, and revenue per passenger kilometer will surpass that of the United States in 2027, according to Airbus.
The average annual growth rate for the domestic market will be 7.1 percent in the next 20 years. Within that larger period, growth will be even faster from 2014 to 2023 at 8.3 percent on average.
Domestic passenger traffic in the Chinese mainland has more than quadrupled over the last 10 years, and it will become the world's No 1 aviation market within the next 10 years, said John Leahy, Airbus chief operating officer for customers.
The fast-growing domestic air traffic market represents a huge demand for single-aisle aircraft, as China will need 3,567 such planes in the next 20 years, according to Airbus.
International traffic from the mainland will post average annual growth of 8.1 percent through 2023, Airbus said.
"Four out of the 20 largest flows globally will be from or to China," said Airbus.
Supported by the strong performance of China's international air traffic market, Asia-Pacific airlines' traffic rose 5.3 percent in 2013, the highest increase among major regions, according to the International Air Transport Association.
International air traffic growth will lift demand for larger aircraft. Airbus has forecast that China will need 1,477 twin-aisle and 319 very large aircraft in the next 20 years.
"In the next 20 years, the greatest demand for passenger aircraft will come from China," said Leahy.
Boeing Co, the US-based aircraft manufacturer, is also optimistic about China's air traffic market. It has forecast that China will need 6,020 new aircraft by 2033.
"The growth of aircraft deliveries to China will stay around 5 to 10 percent annually in the next five years," said Ihssane Mounir, Boeing's senior vice-president for sales and marketing in Northeast Asia.
Wen Bin, chief researcher of China Minsheng Banking Corp Ltd, China's long-term economic development is one of the main drivers for the country's dynamic air traffic growth. Average annual economic growth in China is expected to be 6 to 7 percent in the next few years.