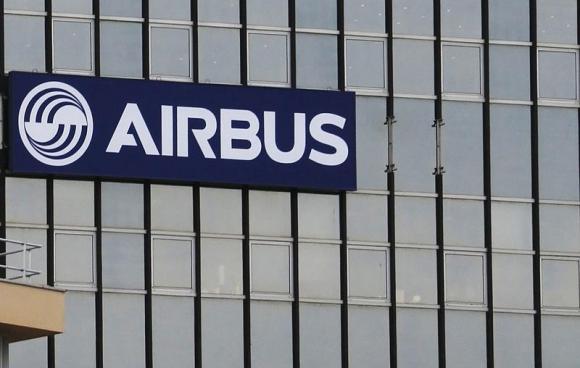 The logo of Airbus Group is seen on the company's headquarters building in Toulouse, Feb 25, 2014 on the eve of its 2013 annual results presentation. [Photo/Agencies]
Airbus raised its 20-year forecast for jet demand on Wednesday, citing growth in emerging markets, with China on the brink of becoming the world's aviation powerhouse.
The European planemaker said it saw strong demand for wide-body long-distance jets as airport constraints force airlines to upgrade from smaller planes on some routes, and said it might speed up production plans for A330neo and A350 jets.
Airbus sees total demand for 31,400 passenger and freighter aircraft between 2014 and 2033, an increase of 7 percent from its previous rolling 20-year forecast. That would be equivalent to $4.6 trillion of industry revenue at list prices.
During that time, the world's in-service fleet will double, and China is poised to displace North America as the world's largest domestic market within a decade, Airbus sales chief John Leahy said in an interview.
Airbus and US rival Boeing are the only manufacturers of wide-body, long-distance jets. They also dominate the market for single-aisle medium-haul aircraft with the Airbus A320 and Boeing 737 models.
Both manufacturers have opted to upgrade their popular small models with new engines to allow airlines to save fuel. Airbus is expected to stage the maiden flight of the revamped A320neo model at its Toulouse headquarters on Thursday.
Within the single-aisle category Airbus, also expects airlines to shift gradually towards the largest member of the family, the A321neo, which seats up to 240 people.
"Demand is shifting towards the A320 and A321, but it is also shifting out of single-aisle into wide-body," Leahy said. "If you are getting close to filling up any plane like the A321 you are spilling traffic."
Airbus nonetheless raised its demand forecast for single-aisle aircraft and predicted 22,000 deliveries of such jets in the next 20 years, up nine percent from its previous forecast.
Airbus, which has said it is studying plans to increase production of its A320 family to 50 aircraft a month from the current target of 46 a month in March 2016, expects to decide next year whether to aim for 50 a month "or more," Leahy said.
He told the Istat Europe air finance forum in Istanbul this week that the company would only raise production cautiously.
In the big-jet category, Airbus is looking at accelerating plans to produce a revamped version of its 250-300 seat A330, Leahy said. That would not necessarily mean greater overall A330 production - most analysts expect the reverse - but it would mean introducing the revised A330neo version more quickly.
It has so far outlined a tentative production goal of 86 revamped A330neo aircraft in 2019.
It is negotiating a potentially large block of a different type of A330, one fine-tuned for short domestic trips, to China, as part of talks to open a cabin-completion plant there.
Leahy said Airbus would try to keep output of the outgoing A330 model, currently 10 a month, as stable as possible. Most analysts expect it to slip to six or eight a month, however.
Airbus raised its 20-year demand forecast for all wide-body jets to 9,300 units, up more than 3 percent from the previous estimate.
But within that total, Airbus downgraded its forecast for the largest category of aircraft, including its A380 and Boeing's 747-8, to 1,500 aircraft from a previous goal of 1,700.
The reduction includes 100 aircraft each for the passenger and freight categories.
Airbus is considering whether to apply its recent preferences for upgrades to the A380 by updating the engines on the world's largest airliner.
No decision is imminent, Leahy said. Airbus is "comfortable" producing 30 of the A380 superjumbo jets a year, he added.