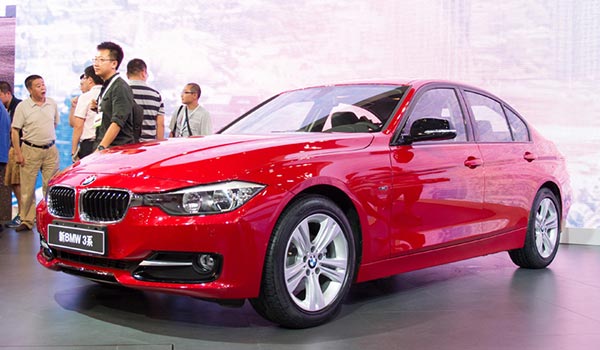 A BMW 316i Sport Line sedan is pictured at the 16th Chengdu Motor Show, Aug 30, 2013. BMW Brilliance is to launch the 316i cars in the Chinese market. [Hao Yan / chinadaily.com.cn]
BEIJING -- BMW China and BMW Brilliance Automotive Ltd will recall 846 cars in China due to manufacturing defects, according to China's top quality authorities on Wednesday.
The cars to be recalled include 436 BMW 320i, 328i, 428i and M3, which were made between September 2014 to October 2014 and imported to China by BMW China, according to the General Administration of Quality Supervision, Inspection and Quarantine (AQSIQ).
The recall will also involve 410 automobiles of BMW 316i, 316Li, 320i, 320Li, 328i, 328Li, and 328Li xDrive made by BMW Brilliance Automotive Ltd, a joint venture between BMW Group and Brilliance China Automotive Holdings Ltd, from November 2014 to December 2014, said the AQSIQ.
Some of the cars have defects in the safety belts of the front right seats. When the temperature is below zero degree Celsius, it tends to be very difficult or impossible to pull the belts out, said the AQSIQ.
The two companies will check the recalled cars and change defective safety belts for free, it added.