BMW leads the way for new era of motoring
Innovation defines the company's latest models
BMW unveiled three new models at the Guangzhou Auto Show on Thursday: the second generation of the BMW X6, the all new BMW 2 Series Active Tourer, and the new BMW 530Le plug-in-hybrid vehicle.
These are the company's latest endeavors following the launch of the revolutionary BMWi3 and i8, the world's first carbon fiber production cars, and they consolidate BMW's leading position in the fast lane of the auto industry as it enters the new energy era.
The second generation BMW X6 presents an unrivalled personality with a dynamic and elegant presence that gives it the air of a private jet waiting to whisk you to your destination, an impression that is reinforced by the luxurious and spacious interior.
The world's most exclusive Sports Activity Coupe, and still a unique concept in its segment, the all-new X6 boasts intelligent light-weight construction, the best aerodynamics in its class, and robust and exciting performance with highly efficient fuel consumption.
Meanwhile, the BMW 2 Series Active Tourer sees BMW heading into a new segment with a design that emphasizes versatility without compromise.
It combines comfort and functionality without sacrificing the hallmark driving pleasure of the BMW brand.
With the focus on "Activity' this compact Tourer is characterized by its spacious yet compact body shape which offers flexibility and roominess for its target customers, active, passionate and fashionable young people that want to get out and about with their families.
The BMW 2 Series Active Tourer is due to launch in China in the first quarter of 2015.
The locally produced BMW 5 Series plug-in-hybrid vehicle (PHEV) made its world debut at the Guangzhou auto show further extending BMW's new-energy range.
With the latest additions to its line-up, BMW offers an extensive range of models that offer the brand's distinctive emotional and exciting driving experience for local customers whatever their needs, while underlining the core values of the BMW brand: Aesthetics, Innovation and Sustainability.
BMW's models on display offer the latest innovations of the brand, and customers will find efficient but powerful engines, lightweight construction, best-in-class aerodynamics and intelligent connectivity throughout the whole BMW range.
"We have been implementing a clear strategy that is customer-oriented, quality-driven and win-win minded. We have listened to our consumers and our dealers, and adapted to the market challenges very timely and effectively," said Karsten Engel, president and CEO, BMW Group Region China, in the Guangzhou Auto Show 2014.
In China, BMW Group sold more than 375,000 BMW and MINI cars in the first 10 months, and the group expects to maintain steady and healthy double-digit growth in China next year.
Last year, BMW Group, with 110,351 employees in 30 factories in 14 countries, sold 1.96 million cars and 115,215 motorcycles around the world, with overall revenue of about Euro 76 billion.
"We are following a clear roadmap for localization in China, covering products, production, talent, branding and the sales network. In the future, our growth will be mainly driven by locally produced models," said Engel.
In July, the group declared it will increase its number of locally produced models from three to six in the next few years, and it plans to increase its annual production capacity in China from 300,000 cars to 400,000 cars.
"We plan to keep our leading position in the field of e-mobility, and work with the government and third-party companies to build up the charging infrastructure in both residential and public areas," Engel said.
According to Engel, BMW Group will launch about 10 new product models in the coming year aimed at targeted market segments in China. The all-new BMW X6 has been developed to satisfy Chinese clients' growing passion for style and personality.
The BMW Group predicts China's passenger car market will at about 9 to 10 percent, with the luxury car segment growing slightly faster at low double digit.
The luxury car market's steady yet moderate growth will probably last till 2020 it forecasts. With the growth in China markedly higher than in many other markets around the world, China remains one of the most important luxury car markets for the foreseeable future.
BMW Group said it will pursue long-term, sustainable and high quality growth in China's luxury car market, which is also in line with the overall development trend of the country's macroeconomy.
With sales and aftersales services two of the key areas for BMW's business around the world, the group expects its number of dealers to increase at approximately the same speed next year as this year. The group is promoting different forms of dealer outlets. So far, about 10 percent of its dealer outlets are not 4S shops but service and repair centers or used car centers.
The group will continue to support and help its dealers grow new business opportunities, such as aftersales services, fleet sales, and used car business, so as to help its dealers improve their capability of resisting potential challenges.
The group is to offer its dealers more than 250,000 mandays of training programs concerning almost all areas of its business in China this year, and the number will increase next year.
BMW recently set up its first official flagship store on T-mall, a popular e-commerce platform in China to better serve its Chinese customers, who have taken to e-commerce in a big way.
liyang@chinadaily.com.cn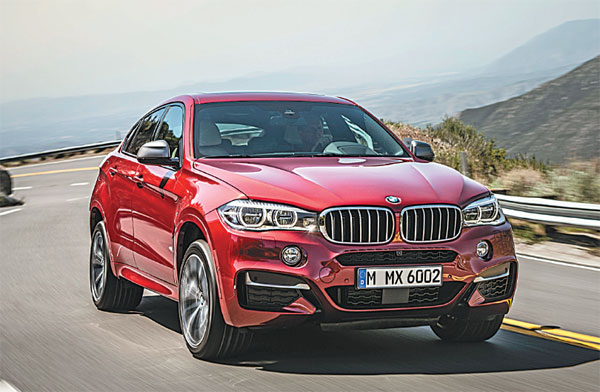 The all new BMW X6 boasts intelligent light-weight construction and exciting performance with highly efficient fuel consumption. Photos Provided to China Daily