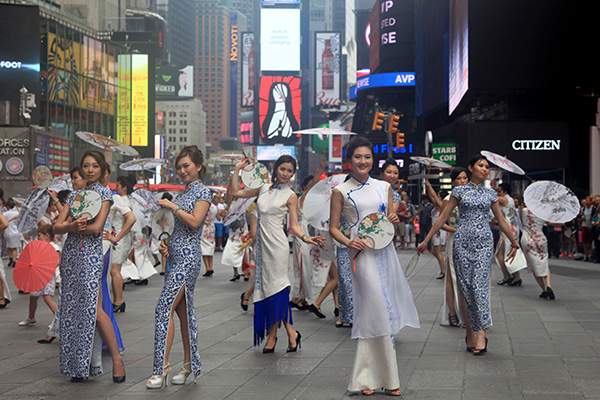 A qipao flash mob performs for tourists in Times Square, New York City, on Sept 10, 2015.[Photo by Ruan Yulin/China News Service.]
The 10-year visa policy between China and the United States has triggered a boom in Sino-US travel.
More Chinese travelers are planning their own trips to the US instead of joining group tours for sightseeing, according to a report released on Tuesday.
The report on US travel by Chinese tourists was released by Ctrip, a leading online travel agency in Shanghai.
More than 30,000 Chinese arranged tourism and business visas through Ctrip from January to August, a threefold increase from last year, said Peng Liang, head of the company's Vacation Department.
Zhang Guangrui, honorary director of the Tourism Research Center at the Chinese Academy of Social Sciences, said the simplified visa procedures for China have helped to boost spending overseas, especially in the US.
The new 10-year visa policy took effect in November.
Pan Lichao, a researcher in Beijing who visited Hawaii in February during Spring Festival, is typical of the new type of Chinese tourist.
"We had been pretty busy at work, and we just wanted to enjoy the relaxed atmosphere during the holidays," said Pan, whose US trip was the first overseas tour for her family.
The number of Chinese tourists traveling to the US has increased greatly.
In 2007, when the US began issuing group visas for Chinese tourists, the number of Chinese visitors was 397,000. The number rose to 2.19 million last year, according to the US National Travel and Tourism Office.
"Many tourists now select a combination of tours when they arrive in the US, such as adventure tours, museum tours or university ones," Peng said. "They will spend two days in one place to learn about local life and culture."
Previously, tourists booked group tours in China and visited the US in just two weeks, he said.
Because of the tight schedule required to visit both the east and west coasts of the US in two weeks, visitors ended up exhausted, he said.
For the Pan family, the vacation included a leisurely trip around Hawaii. It rented a minivan, visited a volcano and a beach. Each of them spent nearly 30,000 yuan ($4,710) for the one-week break.