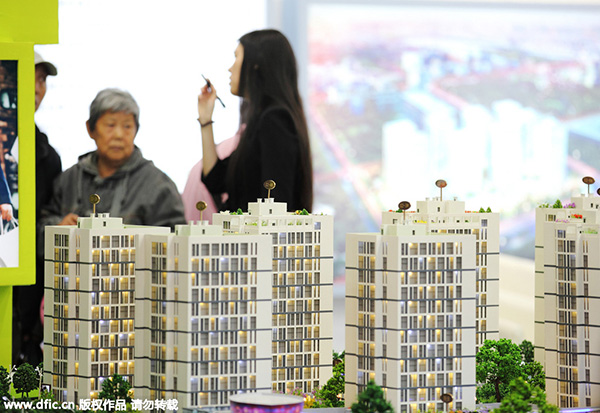 A sales woman introduces an overseas property program to visitors at a spring real estate exhibition held in Beijing, April 17, 2015. [Photo / IC]
Chinese companies are expected to accelerate overseas investment this year, despite the recent turbulence in foreign exchange and stock markets, a new report said on Tuesday.
The report, published by the Chinese unit of global consultancy firm EY, said the country's outbound direct investment growth rate is likely to exceed its 10 percent target this year. The firm also estimated a higher annual growth rate for the next five years.
One of the most attractive overseas markets for Chinese investors is North America, and the firm expects China's investment to surpass $10 billion this year.
One example mentioned by the report is Tsinghua Unigroup Ltd's $23 billion takeover bid for the US chipmaker Micron Technology Inc. If the deal goes through, it would be the biggest Chinese acquisition in the United States till date.
"Investments by Chinese enterprises have created new energy in the global market. Despite the short-term impact of the recent currency policy adjustments, we believe Chinese companies will continue to invest in different parts of the world given the strong government support," said Loletta Chow, global leader of EY China Overseas Investment Network.
Investment in the European market is also expected to rise.
"This year marks a new era for Sino-European cooperation via an unprecedented strategic partnership between the $40 billion Silk Road Fund and the European Fund to jointly invest in Europe," said the report.
The recent depreciation of the yuan against the US dollar has had a limited effect on China's potential overseas investment, said Chow.
Many non-dollar assets became relatively cheaper prices as the major economies continued monetary easing. The yuan is still a strong currency in the world, which provides opportunities for Chinese companies to accelerate the "going out" strategy, she said.
Data from the Ministry of Commerce indicated that in the first six months, outbound direct investment from China stood at $56 billion, up 29.2 percent from a year earlier.
During the same period, Chinese companies invested $7.05 billion in 48 countries along the Belt and Road Initiative. Besides, they have participated in 1,401 projects in more than 60 countries.
Fast growth in Chinese investment will also be seen in Africa, Australia and Latin America, where infrastructure construction sector is the key target, the report said.
Fernanda Chang, leader of the EY China Overseas Investment Network in South America, said that challenges exist in Latin America, as imperfect laws and regulations in some countries, insufficient governmental supervision, a lack of experience in the local economy, policies and culture could bring losses for Chinese investors.