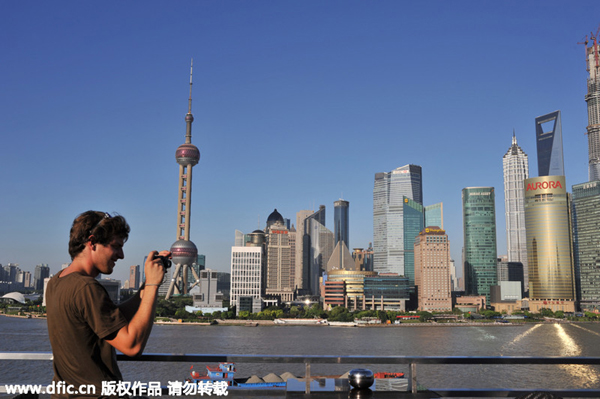 A foreigner takes photos of the Lujiazui Financial District with the Oriental Pearl TV Tower, left, the topped-out Shanghai Tower under construction, tallest, the Shanghai World Financial Center, third tallest, Jinmao Tower, forth tallest, and other skyscrapers and high-rise buildings in Pudong, Shanghai on 12 August 2013. [Photo/IC]
Shanghai leads the country in outbound direct investment (ODI), with last year's ODI surging 1.85 times to $12.29 billion, said consulting firm Ernst & Young in its latest report.
In the first six months this year, the city saw another 3.2 times year-on-year increase in the ODI filed to $23.95 billion.
Among all ODI activities, private enterprises shared an equal position with State-owned ones, according to the report. About 90 out of the 132 financial firms registered last year at the Shanghai Pilot Free Trade Zone for outbound investments manage under partnership.
A total of 594 overseas investments were approved or registered under Shanghai authorities in 2014, said the report, with the US listed as the number one destination and accounting for 20 percent of the investment value.
Leasing and commercial service, real estate, manufacturing as well as information technologies are the leading sectors that attracted the city's ODI, whereas the EY also saw a rising trend in outbound investments in personal care and service industries such as food, dining, tourism and high-end attire brands, according to the report.
China has become a net capital exporter for the first time since last year when ODI outnumbered foreign direct investment (FDI). ODI grew 14.1 percent nationwide in 2014, eclipsing the 1.7-percent FDI growth.
China's ODI surged 20.8 percent in the first seven months of this year to $63.5 billion, as it benefited from fewer government restrictions and strong increases in countries such as the US, said the Ministry of Commerce.