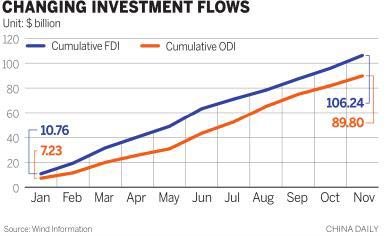 Outbound direct investment by Chinese enterprises could exceed inbound foreign direct investment for the first time this year as companies diversified their activity around the world from infrastructure projects to technology and brands, a government spokesman said.
China's non-financial ODI rose 11.9 percent to $89.8 billion during the first 11 months, while non-financial FDI was up just 0.7 percent to $106.24 billion, the Ministry of Commerce announced on Tuesday.
Shen Danyang, spokesman for the ministry, said that when the full-year figures are tallied, they are likely to show that ODI exceeded FDI, even though China does not specifically aim to be a capital exporter.
Chinese companies invested in 153 countries and regions between January and November. Seven destinations accounted for almost 75 percent of the total, including the Association of Southeast Asian Nations, the European Union, the United States, Australia and Russia.
Structural changes are taking place in the global economy, offering Chinese enterprises some opportunities for internal transformation. Domestic companies are also looking to get more "bang for the buck" overseas, especially in emerging markets.
China can draw on its international experience in its own drive to urbanize, innovate and develop a modern service sector, said Shen.
Boosted by strong demand in Africa and emerging markets such as Latin America and Oceania, Chinese contractors' turnover totaled $121 billion in the first 11 months, up 10.6 percent year-on-year. These companies signed $161 billion worth of new contracts and sent about 500,000 workers to different locations throughout the world.
"The robust growth of China's outbound direct investment will not change in the short term. The economic situation demands that domestic companies deploy more people and resources to fuel their growth in overseas markets," said Zhou Mi, a researcher at the Chinese Academy of International Trade and Economic Cooperation.
Lethargic GDP growth is driving many countries to seek foreign investment to boost their economic growth and employment.
According to Zhou, Chinese investment no longer focuses on infrastructure projects and natural resources. Enterprises such as China CSR Corp, Huawei Technologies Co and Sinochem Group are now quite able to build manufacturing facilities to produce advanced products of their own in foreign markets.
"International markets-in particular Latin America, ASEAN, the US and EU, still need advanced Chinese products such as high-speed rail facilities, machinery, telecommunications equipment and shipping equipment to support their economies," said Zhou Shijian, a senior researcher at Tsinghua University in Beijing.
China's ODI reached a record high of $108 billion in 2013, making it the world's third-largest investor for a second consecutive year.
Zhou Shijian said that Chinese companies still face certain problems such as financing difficulties, vulnerability to risk and misunderstandings involving different cultures and regulations in foreign markets.
New routes to employment
Countries on the Silk Road Economic Belt and 21st Century Maritime Silk Road, two initiatives proposed by China to promote regional integration and facilitate trade on the Eurasian continent and in the Pacific and Indian Ocean regions, have been doing more business with China this year.
The contract value of service outsourcing and implementation agreements totaled $10.61 billion (up 22.3 percent) and $8.05 billion (up 31.5 percent), respectively, from January to November.
During that period, 629,000 people joined the service outsourcing sector. Almost 70 percent held tertiary qualifications, demonstrating that better-educated workers are assuming a larger role in China's labor exports.
Shen Danyang, spokesman for the Ministry of Commerce, said that these sectors will facilitate cross-border business, tourism and educational exchanges.
"This has become an important way to reduce the pressure in the domestic job market, and it will offer great opportunities for Chinese workers to gain international work experience," he said.
China had 27,686 service outsourcing enterprises with 6 million employees as of Oct 31.