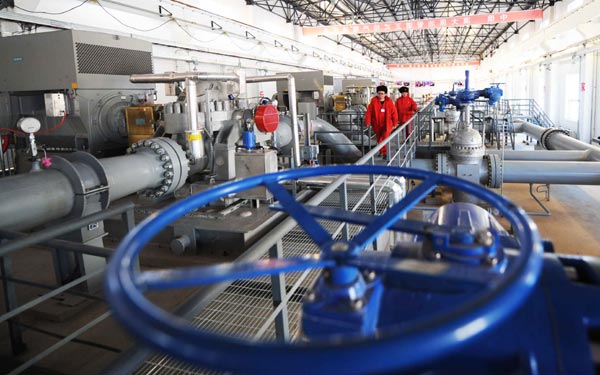 Employees inspect the China-Russia crude oil pipeline at a pumping station in Mohe, Heilongjiang province. In May, Russia agreed to supply China with 38 billion cubic meters of natural gas annually for 30 years, starting from 2018. [Photo/China Daily]
Cooperation already close with major long-term commodity deals in place
Falling crude prices and the rouble's depreciation will lead to more opportunities for Sino-Russian cooperation on energy, a leading industry expert said on Friday, who added that China's resource-rich neighbor will also remain eager for outside investment, particularly from Beijing.
Russia's currency saw a 20 percent drop against the dollar on Tuesday, as the downward spiral in oil prices continued.
Liu Yijun, professor with the China University of Petroleum, said that Moscow historically has "always become more open to energy cooperation when it has been faced with financial difficulties", and there is no reason to think that might change this time.
China is a major buyer of Russian crude oil and natural gas, and the two sides have signed several long-term trading contracts in recent years, which Liu said means China will have a bigger say in any future negotiations on Sino-Russian energy projects.
The two nations signed a crude supply agreement in 2009 during the last major downturn in international crude prices, under which Russia agreed to deliver 15 million metric tons of crude annually between 2011 and 2030 to China.
The two sides increased that to 30 million tons in June 2013 and extended the supply period for another 25 years.
In May this year, Russia also agreed to supply China with 38 billion cubic meters of natural gas annually for 30 years, starting from 2018.
"China has already formed a mature and diversified energy supply structure, and the country's demand growth for oil is declining," Liu said.
According to research from Sinopec Group, China's largest refiner, the country's petroleum consumption growth in 2014 will be around 3 percent year-on-year, a 10-year low.
In view of that slowing consumption, Liu said, Russia will be worried to lose its major energy buyer, especially given its domestic financial problems and the ongoing political crisis in Ukraine.
Li Yan, a crude analyst with domestic consultancy Shandong Longzhong Information Technology Co, agreed that the current conditions pointed to closer ties between the nations.
"Based on China's long-term relationship with Russia, the world's second-largest economy will offer its help when its neighbor needs it," said Li.
The low crude prices will allow China to place bigger orders and be guaranted a more stable supply from Russia in the long run, but there is unlikely to be any instant impact on energy trading between the two countries, since the deals are done in dollars, Li said.
He said that the rouble's depreciation will have limited impact on China over the short term, but that Russia will definitely need a huge amount of investment and cooperation in the future from foreign countries, especially China.