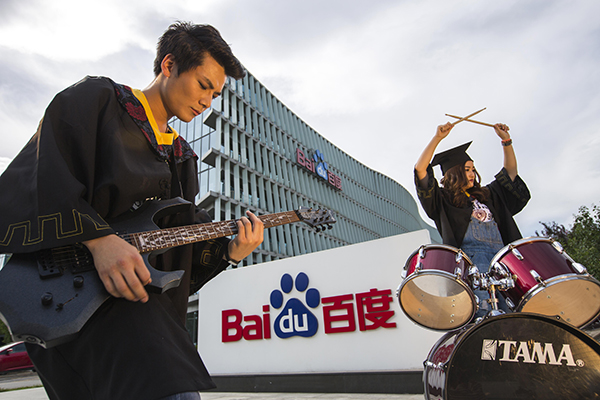 New staff in their graduation gowns play in front the Baidu Inc logo in Beijing to mark the start of their career at the Internet company. [Photo provided to China Daily]
Consumers might be familiar with Internet companies' logos, such as JD.com's metal dog, Tmall.com's cat, Ganlv.net's donkey and Tuniu.com's cow. While these animals on their own do make for adorable pets, I have often been flummoxed as to how firms chose them as mascots and their connection to the business.
As far as I know, this is not something that is common in Chinese culture as enterprises often opt for logos based on elements like stars, a red flag, lucky numbers and even Chinese characters with auspicious meanings. To cite an example, China FAW Group, the Changchun-based State-owned auto producer, has named its flagship sedan as "The Red Flag".
The Chinese practice, however, is in stark contrast to what is seen in the West, where using animals as a corporate logo or mascots is quite common, especially in the automobile industry. I have often looked on with admiration at the horse logos of Ferrari and Porsche, the ox in Lamborghini and the leopard in Jaguar. Obviously, with these animal images, the luxury car producers want to inform consumers about the speed and power of their products.
No wonder that the Chinese Internet companies are following suit. They have tried to keep abreast with the global trend as competition between Internet companies is often intense and brutal. Many online businesses want their names, logos and mascots to be eye-catching to consumers, so as to impress them the most. It appears that they are desperate to gain an upper hand in the market competition with their image.
Personally, I like Baidu.com's website which uses a bear's paw between Bai and baidu in Chinese characters. My daughter told me she uses Baidu.com to browse news, information that she needs, to buy film tickets, to make catering reservations and book hospital/doctor appointments. I often use my smartphone's Baidu map application while driving for navigational purposes. It seems to me that the company is something like a bear's paw that can reach every corner it wants, and of course it is also in the service industry.
I did not have much brainstorming to do to base my conclusion. My observations and my daughter's experiences can be easily combined to draw the conclusion that Chinese Internet companies which want their products or services to reach the designated end users also want to portray the image of their products or services as being always alive among consumers. In other words, they want consumers to regard their products, services and the company as adorable pets.
A recent report from Internet giant Tencent Holdings Ltd about China's Internet companies caught my eyes the other day. The report, quoting data from the Internet Society of China, said the country's top 100 online companies generated revenue of 573.5 billion yuan ($90.3 billion) in 2014, representing a year-on-year increase of 47 percent. Alibaba Group Holding Ltd, Tencent, Baidu Inc and JD.com Inc were the top four players, and it was no surprise that all of them used animal logos to represent their images.
The success of Chinese Internet companies like Alibaba, Tencent, Baidu and JD after using pet logos is a clear indication that such strategies work and are worthy of emulation. Hopefully, other companies in the service sector will take note and follow suit.
Be it pet mascots, or fruits or plants-they all have a green image among consumers, something that would translate automatically onto their products. One company that I would like to mention here is, of course, Apple Inc's apple image and its tremendous business success worldwide.