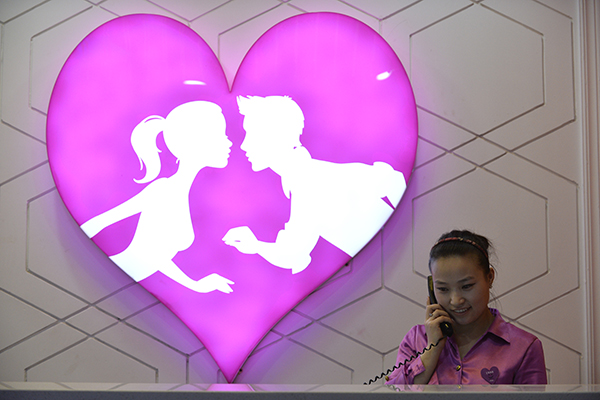 A receptionist receives a call at a love-themed hotel in Taiyuan, capital of Shanxi province. [Photo provided to China Daily]
At the Wan Ai hotel next to Beijing Normal University, male receptionists dressed in bright pink shirts are busy taking calls and helping customers check in.
The word "love" is written everywhere and cute cuddly toys can be found all over the pastel pink reception.
But then, the Wan Ai chain does not run ordinary hotels. Instead, they are part of the new phenomenon of love-themed hotels springing up in the country.
Although the concept of love hotels came from Japan, it has quickly spread to other countries in the region such as China and South Korea.
"Our company plans to open a total of 20 new hotels across different locations in China this year," Liu Baolong, hotel manager at Wan Ai, said.
Since rolling out its first hotel in 2011, the Wan Ai chain has opened a total of five properties in Beijing. Outside the capital, franchises can be found in Hubei's Wuhan, Yunnan's Kunming, Henan's Zhengzhou and in Tianjin.
Although there are no official figures to explain this trend, the chain's fast expansion reflects its increasing popularity.
The key feature that distinguishes a love hotel from an ordinary one is the decoration of the rooms. They mainly consist of fantasy interiors, decorated in bright colors, with the walls adorned with hearts.
Across the chain, Wan Ai offers a wide range of themed rooms such as the "I Love Sailing" with a boat-shaped bed. There is also a "Hello Kitty" room jammed full of decorations associated with the cute Japanese cat.
Hotels prices are also an attractive feature for young lovers. For an overnight stay, costs vary greatly depending on the location of the hotel and on the special features of the room.
Prices normally range from 300 yuan ($47) to 900 yuan. But two hours of "private couple time" can be purchased for as low as 100 yuan. Most chains also offer membership deals with discounts and privileges for loyal customers.
In the Chaoyang district, next to the University of International Business and Economics, the Cinema Motel mainly caters for students since opening last September.
Inside the futuristic-looking hotel, every room displays a different movie theme such as Transformers, Harry Potter and The Minions.