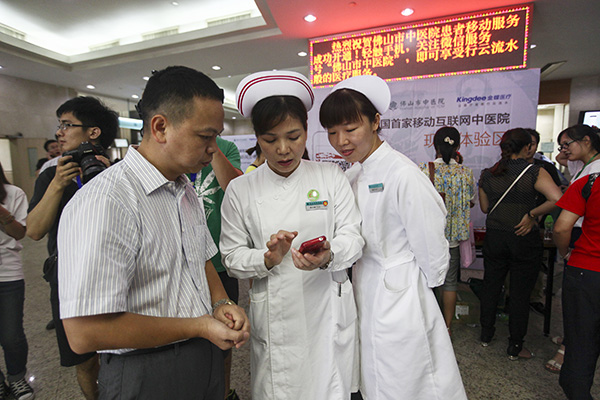 A medical worker shows a patient how to use WeChat to access hospital services in Foshan, Guangdong province. [Photo provided to China Daily]
Patients will reap the benefits as hospitals, clinics and pharmacies team up with Alibaba, Tencent and Baidu
Outpatients used to have to join long, snaking lines outside of the pharmacy at Hubei Chest Hospital before picking up their prescription drugs.
Similar scenes were, and still are, common at most medical clinics across the country.
But now a pilot plan rolled out by Alibaba Group Holding Ltd and Hubei Chest Hospital in March is changing all that as the healthcare sector embraces the Internet age.
Instead of waiting in line, outpatients can download the hospital's mobile app before ordering and paying for their prescriptions online, which are then delivered to their homes.
"Although China's Internet healthcare industry is still in infancy, it has lured the country's Internet heavyweights, which are determined to reshape the sector with technology and service-oriented mindset," said Lin Wenbin, a senior analyst at research company Analysys International.
At the click of a button, the healthcare sector in China is being revolutionized by Internet innovation.
Patients are reaping the benefits as hospitals, clinics and pharmacies team up with major Web players, such as Alibaba, Tencent Holdings Ltd and Baidu Inc, to produce services ranging from online consultations to health data information.
At Hubei Chest Hospital, the smart app project links up pharmacies within a three-kilometer radius with an e-prescription system based on Alibaba technology.
"In future, this will drive more traffic to drugstores and further relieve pressure on the hospital," said Li Denghui, president of Hebei Chest Hospital.
Hundreds of medical institutions in China are undergoing a rapid transformation by using online technology. In April, Alibaba launched an initiative called Cloud Hospital, to promote partnerships between medical centers across the country. The program is already up and running at Hubei Chest Hospital.
In July, Baidu Inc signed a strategic partnership with EZTcn.com, a mobile healthcare service provider, which helps people make an appointment online to see a doctor.