A worker welds at a construction site in Yiliang, Yunnan province, February 28, 2015.[Photo/Agencies]
China's economic growth failed to rebound in August as expected, signaling that the central government may have to introduce more support measures.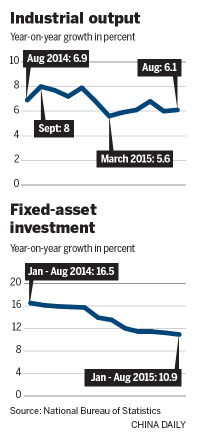 The National Bureau of Statistics said on Sunday that industrial output, the main monthly growth measure, rose to 6.1 percent year-on-year last month, up from 6 percent in July, but short of expectations of 6.5 percent.
On Friday, Premier Li Keqiang sent a message to the world at the "Summer Davos" forum in Dalian, Liaoning province, that a slower growth rate is acceptable unless there is turbulence in the job market. Measures introduced to date are sufficient to prevent an economic "hard landing".
In an attempt to inject long-term growth momentum into large State-owned enterprises, the State Council, or the Cabinet, has released a guideline on further reforming their ownership and stimulating market vitality.
Fixed-asset investment increased to 10.9 percent in the first eight months compared with a year earlier, slower than the 11.2 percent from January to July.
Retail sales rose by 10.8 percent in August, compared with 10.5 percent in July, the bureau said.
An independent calculation by Bloomberg shows that China's GDP growth rate may have been 6.6 percent in August, unchanged from July, but slower than the 7 percent in the first six months, said Tom Orlik, an economist at the news agency.
According to the statistics bureau, in the first half of this year the number of jobs grew by more than 7.18 million, compared with the target of 10 million set for the year.
However, the manufacturing and service purchasing managers' indexes released earlier showed employment contracting last month.
Qu Hongbin, chief China economist at HSBC Holdings, said a long-term economic slowdown is harmful to companies' confidence, which may lead to a wave of bankruptcies and sharply reduce job opportunities.
"Industrial production faces a grim situation, requiring more policy easing," Qu said. He expects infrastructure construction and real estate growth to speed up, which may support a modest economic rebound.
The statistics bureau also said that in the first eight months, real estate sales continued to strengthen, showing 8 percent year-on-year growth. However, the booming sales have not stimulated investment in the sector. The amount of new property being built has fallen by 17.9 percent, the bureau said.
Economists said there is still room to strengthen policies. More government spending is expected on roads, waterworks and other public projects, which can offset the slowdown in capital spending on real estate and manufacturing, they said.
Measures to stabilize growth should not delay the ongoing transformation from an export and investment-driven growth model to one dominated by service and consumption, they said.