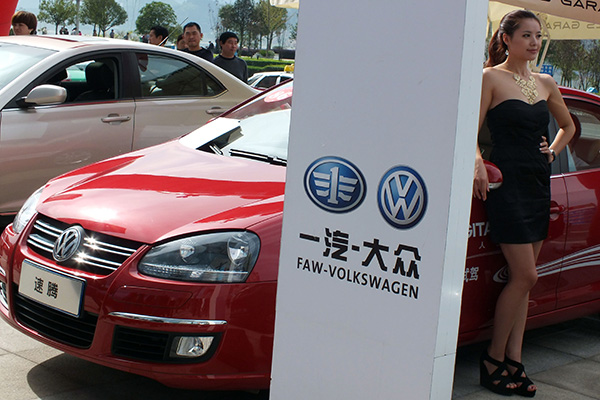 The General Administration of Quality Supervision, Inspection and Quarantine told FAW-Volkswagen Automobile to improve its recall completion and constantly monitor the cars with metal plares added to rear suspension. [Photo/China Daily]
Automaker agrees to step-up Sagitar recall
After a one-year assessment of the new Sagitar, China's quality watchdog on Friday urged FAW-Volkswagen to accelerate its recall to fix a flaw in the rear suspension.
The General Administration of Quality Supervision, Inspection and Quarantine told FAW-Volkswagen Automobile to improve its recall completion and constantly monitor the cars on which it has added metal plates in a bid to address the defect, and take further actions to eliminate the safety hazard.
It said it is possible for the trailing arms on the torsion-beam of the rear suspension to be damaged in the event of a collision to the rear or side-rear, and if the damage isn't noticed, then the part could fracture while driving.
The administration said the problem with new Sagitar is the "the rear suspensions have lower deformation resistance than the others of the same type."
After installing the metal plates the cars can keep running for a certain distance even if the trailing arms crack, however, there are possibilities that the metal plates may crack later and cause the car lose control, the watchdog said.
The investigation found the metal plates raised the rods' resistance to deformation and reduced the possibility of deformation, but did not completely eliminate the problem.
Soon after the administration released its report, Volkswagen Group China, FAW Volkswagen, and Volkswagen Imports jointly announced they accept and respect the watchdog's investigation results and vowed to take more measures to address the concerns of owners.
Their announcement said "there won't be a crack risk in the trailing arms if no collision happens to the rear or side-rear."
More than 70 experts and engineers from well-known universities and labs analyzed 4,468 valid complaints and conducted telephone interviews with 463 customers. A total of 494 cases involved in malfunction were collected and analyzed, and 143 materials, stress performance and engineering tests were performed.
The automaker is recalling 563,605 new Sagitars, named new Jetta in some other countries, sold in the Chinese mainland from Feb 2, and it said 85.2 percent of the recall had been completed as of Thursday.
The recall made through 4S dealers inspects the trailing arms, and if they show any signs of damage, the entire torsion beam will be replaced free of charge, otherwise the metal plates will be added.
However, Chinese media reported earlier that many new Sagitar owners in 14 provinces and cities claim their cars have not been recalled even though they found their vehicles among the recall completion lists stating satisfaction with the service.