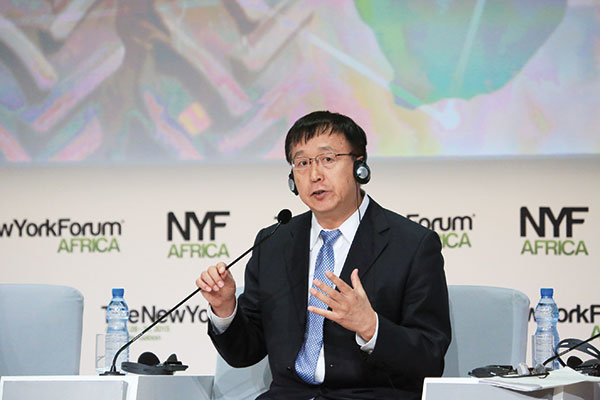 Li Keping, president of China Investment Corp, believes China has contributed a great deal to infrastructure development in Africa, which paves the way for the continent's economic success. [Photo provided to China Daily]
China's SMEs can play a key role in the continent's next stage of industrialization
China's small and medium-sized enterprises will find excellent opportunities in African countries eager to transform their economies because of falling commodity prices and the need for infrastructure.
Li Keping, president of China Investment Corp, believes that the experience of entrepreneurs behind these companies will prove crucial.
Also vice-chairman and chief investment officer of CIC, a sovereign wealth fund established as a vehicle to diversify China's foreign exchange holdings, Li said he hopes to produce maximum returns for his shareholders within acceptable risk tolerance.
Industrial parks can be a good choice for locating SMEs, he said. But there are other factors to take into account, such as natural resources, labor costs, environmental issues and government administrative efficiency.
Also, investing in industry requires a much longer commitment than building infrastructure, so Chinese companies involved in industrial sectors need to make sure they hire talented managers with an international mindset.
"With the development stage Africa is in, planning and strategic orientation" should be given priority when considering investing, he said, adding that only in this way can investments meet the countries' needs and lead to a win-win situation.
While Chinese companies should carefully analyze potential investments, the economic situation means more alternatives will start to open up.
Countries with a high economic growth rate in Africa are those with resource advantages, including energy, forests and mines, he said.
"They earn their income by exporting resources. But after the price drops in staple commodities, especially petroleum and ore, the fiscal revenue of those countries has been greatly reduced. This has forced them to look into economic transitioning and diversification."
Debts from large infrastructure investments also make economic transition a priority in the years ahead.
China has contributed a great deal to infrastructure development in Africa, which offers the "foundation and precondition for Africa's economic takeoff".
"While all sectors of society benefit from this infrastructure, African governments don't profit from them directly," said Li.
"The price drops of staple commodities result in financial stress and even deficits, making it hard for many African countries to float loans to build infrastructure.