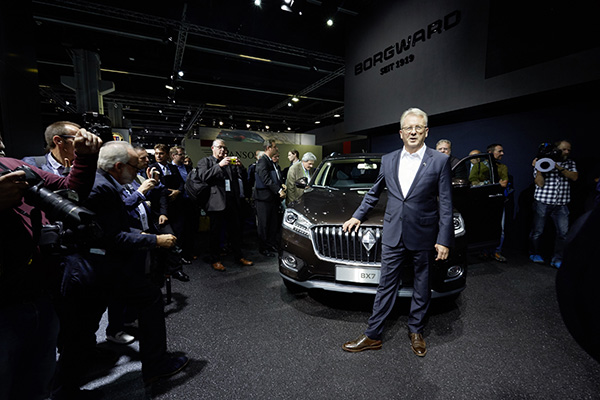 Ulrich Walker, CEO of Borgward Group with the new SUV X7. [Photo provided to China Daily]
Chinese car buyers will have a new choice now that German auto brand Borgward has staged a comeback with an SUV and plans to introduce its first vehicle to China in the first half of 2016.
The resurrected brand made its world premiere of its first model, the BX7, at the ongoing Frankfurt motor show since its bankruptcy in the 1960s.
"Our goal is to turn Borgward once again into a major international automobile manufacturer, just as it was in its heyday," said Ulrich Walker, CEO of Borgward Group AG, at the auto show on Sept 15.
Established in 1919, Borgward was one of the most popular brands in Germany. It was one of the first automakers to introduce automatic gears, invented the compact sedan and was Germany's largest car exporter.
The Stuttgart-based automaker is pinning much of its hope of restoring its glory on China despite the slowing growth rate in the world's largest auto market.
"China remains a growth market, particularly in the SUV segment," said Walker. The first Borgward plant is about to be completed in China and the first model will hit the Chinese market in early 2016.
Built on the Borgward Sustainable Platform, the 4,713 mm-long BX7 sports a 2.0-liter direct injection engine that generates top output of 165 kW and maximum torque of 300 Nm. It sprints to 100 km/h in less than 10 seconds and has a top speed of more than 200 km/h.
In addition to the mid-sized BX7, a smaller SUV is also in the pipeline, with models in other segments to follow. Walker said at least two new models will be presented for market launch every year.
Borgward will not confine itself to China and Europe. "Our goal for the medium and long term is to be present not only in China and Europe but in other major markets as well-and, in particular, in the emerging economies," said Walker.
As it enters new markets, it plans to establish local production facilities as a "worldwide footprint" is one of three pillars of Borgward's development strategy, with the other two being a valuable brand and German engineering.
In the medium term, Borgward has a target of global sales of more than 500,000 vehicles. "The Borgward family will be competitive and our business model is based on sound financial and strategic foundations," said Walker.
As in the past, the Borgward brand stood for outstanding engineering, design and quality as well as for innovation, sustainability and affordability. "It's what we call 'accessible premium'," Walker said.