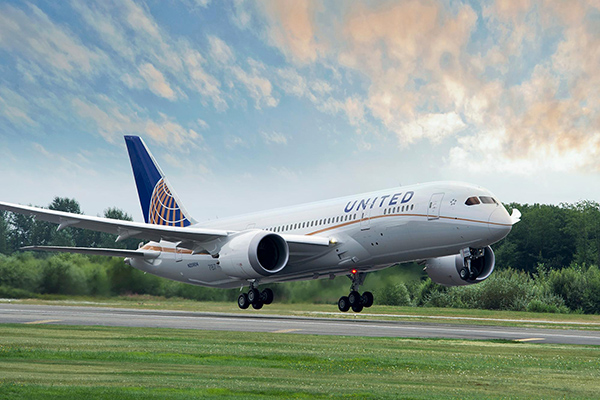 United Airlines' Boeing 787 Dreamliner is revolutionizing the flying experience for United customers with many customer friendly features including bigger windows, larger overhead bins, lower cabin altitude and enhanced ventilation systems. [Photo provided to China Daily]
Carrier aims to be top choice for Sino-US flights
Editor's note: As the largest carrier in the market, United Airlines is a key player in Sino-US air traffic. Sino-US air traffic is expected to continue growing, with boosts from the two countries' increasing trade exchanges and relaxed visa policies. President Xi Jinping's visit to the US this month is also expected to promote tourism between the two countries. However, competition is heating up as carriers from both China and the US add more flights and routes across the Pacific.
Jake Cefolia, United Airlines' vice-president, Atlantic and Pacific Sales, talked to China Daily reporter Wang Wen about his opinions on the market and United Airlines' plans for Sino-US routes.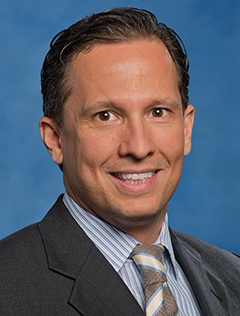 Jake Cefolia, United Airlines' vice-president, Atlantic and Pacific Sales
Could you comment on the performance of United Airlines' current routes to China? How about the average load factor?
United Airlines offers 84 weekly flights to the US from Beijing, Chengdu, Hong Kong and Shanghai. Our Chengdu-San Francisco service, which we launched in June 2014, is the first nonstop trans-Pacific service from Chengdu.
In addition, we launched a nonstop service from Shanghai to Guam in October 2014, the only scheduled nonstop service between Chinese mainland and Guam.
The average load factor on our China routes is broadly in line with that for our Asia-Pacific routes as a whole, in the 80 to 90 percent range for the period from January to August 2015.
It was reported that United Airlines planned to add more flights in and out of Shanghai, but failed due to slot issues, or known as departure and landing schedule. Are you still working on the additional flights? When will we see more United Airlines flights to China?
We are still working to obtain a commercially viable slot in Shanghai for a second daily flight to San Francisco and look forward to starting this service.
We are proud to be the first and only airline to offer a nonstop trans-Pacific service from Chengdu, and to have increased the frequency of that service to daily this summer.
Our Chengdu-San Francisco service is a good example of the types of growth opportunities we expect to pursue as demand materializes. We continue to look for opportunities for further growth in China and are ready to add capacity whenever we see sufficient profitable demand.
What is your priority in the China market in the next three to five years? Can we expect more Chinese destinations?
China is one of our most important and fastest-growing international markets.