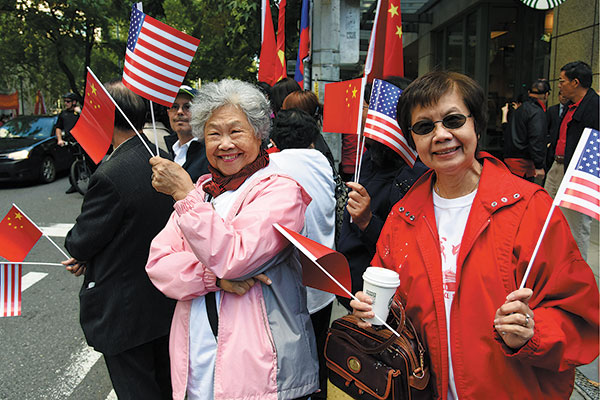 Chinese people living in Seattle welcome President Xi Jinping's visit to the the country on Sept 22. The trip is expected to boost Sino-US trade to a new high. [Photo/Agencies]
Financial cooperation soars between economic giants, spurring global recovery
At the invitation of US President Barack Obama, Chinese President Xi Jinping is scheduled to visit the United States this month, providing a crucial opportunity for the countries to further their relationship.
During a visit to Beijing in August, US National Security Advisor Susan Rice delivered a message of Washington's willingness to view Xi's upcoming visit as "a milestone" in bilateral ties.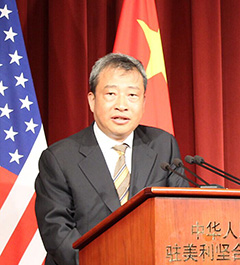 Zhu Hong, minister for commercial affairs at the Chinese Embassy to the United States.
The two leaders have reached consensus on a wide range of bilateral, regional and global affairs, as well as strategic mutual trust during meetings over the past years, and have injected fresh momentum into the development of a new type of relationship among major powers.
As a cornerstone and a booster of China-US ties, bilateral trade exchanges, in particular, have played and will keep playing a central role in spurring cooperation and global economic recovery.
Firstly, bilateral cooperation on trade and investment is expected to keep growing, as the countries became each other's second-largest trade partners in 2014.
The US is now the biggest export market and the fifth-biggest source of imports from China, while China is the largest source of US imports and the third-largest export market.
China-US trade in goods totaled about $555 billion last year, and its annual growth rate reached 13 percent, even between 2009 and 2014, when the world's trade exchanges plummeted in the aftermath of a global financial crisis.
US exports to China in 2014 alone generated approximately 1 million jobs, according to statistics provided by the country's Department of Commerce.
It is no exaggeration to say that the "unusual" rise in their bilateral trade exchanges has significantly contributed to the ongoing global economic recovery.
Historic changes are also taking place in direct investments between China and the US, as the former's investment in the latter has expanded over the past few years. China's direct investment in the US has outstripped that of the US in China since 2012.
By the end of 2014, US investment in China was estimated at more than $76 billion, with the Chinese investment in the US reaching $47 billion.
According to Rhodium Group, the amount of Chinese enterprises' investment in the US has increased by 27 percent per year from 2010 to 2014, generating more than 80,000 jobs in about 44 states. Such interactions have not only boosted US employment, exports and economic growth, but also nurtured more competent Chinese enterprises to bolster the country's deepening economic reform.