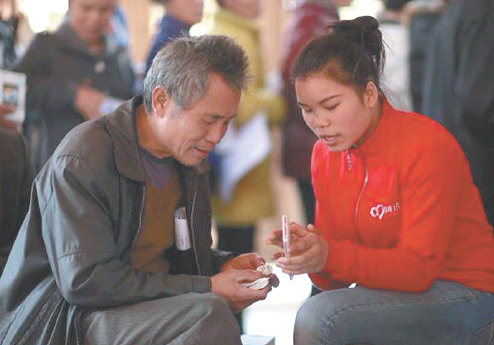 A Tencent employee instructs a villager in Tongguan, Guizhou province, on how to use smartphones. [Photo provided to China Daily]
Tencent and its technology have been embraced by people of all ages at a village in Guizhou
In Tongguan, a village in a mountainous area of southwestern Guizhou province, 65-year-old Wu Peishan sat near the door of a small shop, her eyes glued to the screen of her smartphone.
The grandmother was video chatting with her sons using the shop's Wi-Fi network.
She has two boys, both working in a factory making backpacks in Guangdong province and they only come back once a year during Spring Festival.
In the past, she relied on the phone to keep in touch.
"I live alone," she said, "but when I miss them, I can see them online.
"Though I can't hear clearly what they say, it is just good to see their faces on my phone."
Like many others in the village, which is about six hours' bumpy bus ride from Guiyang, the provincial capital, Wu has no formal education.
Home to 1,800 residents, Tongguan is mainly populated by the Dong, a southern ethnic minority people, traditionally known for growing sweet varieties of rice, carpentry skills and sadly until recently, high levels of poverty.
The average annual income of its residents is 2,800 yuan ($438), little more than a 10th of the national average.
But thanks to the efforts of Tencent Holdings Ltd, a growing number of villagers are accessing the mobile Internet, and the technology is reshaping not only how people communicate, but how they make their living, and as a result, how they view their future.
"After several years of pouring resources into Tongguan's educational facilities, we realized that giving money was not enough," said Chen Yuanyuan, director of corporate social responsibility at Tencent.
"We thought of the expression, 'teaching a man how to fish is more important than giving him a fish'. So we decided we should bring our own core competency into play, and help people here thrive, by relying on their own resources."
The plan, said Chen, was to connect the secluded village with the outside world, "emotionally, informationally and financially".
Last year, working with China Mobile Communications Corp, the two companies set up a 4G network base in Tongguan, the first of its kind in a remote Chinese village, and gave every resident a free monthly package for 20 months.