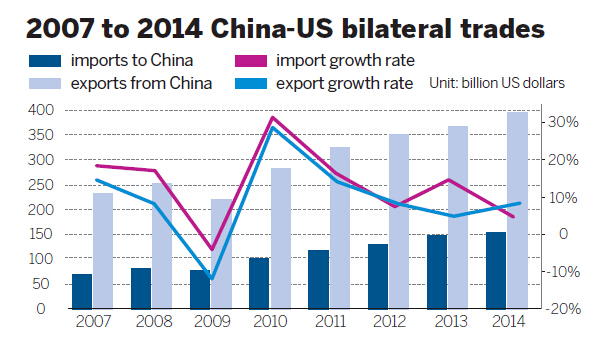 The development stage, industrial structure, factor endowments, market demand and many other characteristics of China and the United States are highly complementary. These have created favorable conditions for sustainable development of bilateral trade based on the theory of comparative advantage. In addition, the acceleration of two-way investment, internal trade of transnational corporations and China-US bilateral trade and investment agreements have all provided practical support to the development of bilateral trade under the current global economic setting.
Bilateral trade between the two reached $549.19 billion in 2014, exceeding China's total foreign trade volume in 2001, according to data from the General Administration of Customs. China imported $153.13 billion worth of goods from the US and shipped $396.06 billion of products to the world's largest economy, achieving a surplus of $242.93 billion.
Since China joined the World Trade Organization in 2001, bilateral trade between the two sides has maintained steady growth, except during the tough period caused by the global financial crisis. Bilateral trade growth was higher than the overall growth rate of China's foreign trade. The economic crisis made both China's import and export growth rates fall. However, the growth rate of the nation's imports from the US grew even faster after its exports exceeded the US shipment volume to China in 2007, indicating the country bought more US products with growing purchasing power.
The US was China's largest export destination and second biggest market for imports between January and June. Electrical equipment accounted for the largest proportion of China's imports from the US. Cereals, fruit, machinery and aircraft followed from second to fourth. The average growth rates of these four categories were 10 percent higher than the proportion of China's total import volume during this period, increasing by 13.4, 11.5, 11.1 and 10.6 percent respectively.
Meanwhile, China's exports to the US were more highly concentrated. Electrical equipment and machinery exports accounted for 22.4 and 21.6 percent of total shipments.
The US was one of the earliest to recover from this economic crisis among developed economies. Its withdrawal from quantitative easing and surging international capital reflux not only boosted market confidence, but also built a solid foundation to expand its import channels in the global market.
The two-way investment between the two nations has remained fast and stable. The internal trade of transnationals cooperation also contributed positive factors to bilateral trade. However, it should also be noted that there are disparities between the two in areas such as health, sanitary and phytosanitary goods checking standards, as well as discriminatory export control against China to purchase "sensitive products" from the US. These elements have affected the purchasing confidence and operating ability of Chinese enterprises.