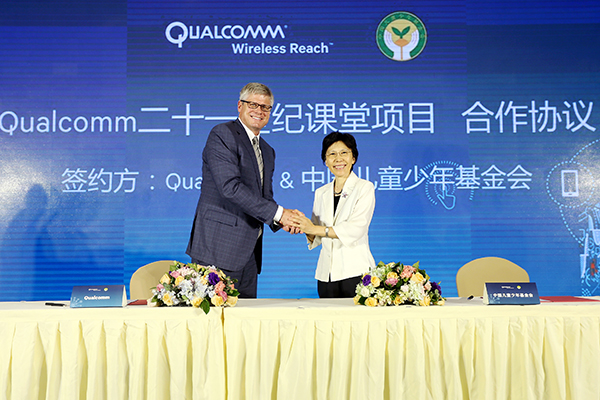 Coinciding with the seventh US China Business Leaders and Former Senior Officials Dialogue in Beijing on Sept 17-18, Qualcomm, through its Wireless Reach initiative, and China Children and Teenagers Fund announced their collaboration on the Qualcomm 21st Century Classroom program, a mobile broadband-based learning program that supports the Chinese government's use of information and communications technologies to modernize education and reduce poverty. Qualcomm CEO Steve Mollenkopf shakes hands with Zhao Donghua, deputy director general of the fund. [Photo provided to China Daily]
Chinese President Xi Jinping's visit to the United States coincides with the 70th anniversary of the United Nations, an organization that embodies global partnerships.
Governments, economies and industries around the world are increasingly aware that partnerships lead to shared successes.
As a global technology company, Qualcomm is dedicated to combining our expertise and technological strengths with those of our partners to satisfy growing demand for mobile broadband solutions.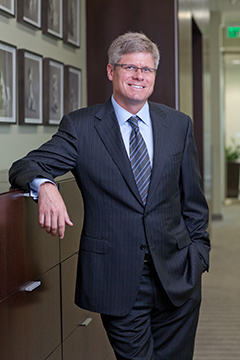 Steve Mollenkopf, CEO of Qualcomm Incorporated
For two decades, Qualcomm has collaborated with a range of Chinese companies to create new ways to connect people and communities.
As a result, the Chinese mobile ecosystem has experienced tremendous growth, and consumers have realized incredible benefits in their work and personal lives.
According to a 2015 study by the Boston Consulting Group, consumer adoption of 3G and 4G technologies has outpaced all other technologies, growing to 3 billion connections in less than 15 years.
The study projected that the number of connections will grow to more than 8 billion by 2020. These connections have unlocked enormous economic opportunities in China and the US.
Qualcomm is collaborating across the mobile communications industry to help build an innovative and technology-driven Chinese economy.
We have made huge investments to make our cutting-edge technologies meaningfully available to Chinese handset manufacturers, which have helped those Chinese companies establish themselves as top global manufacturers in the mobile industry.
Qualcomm also works with Chinese mobile operators to provide fundamental technology education, training and support to facilitate China's transition from 3G to 4G.
Five of the top 10 global 3G/4G handset manufacturers were Chinese in 2014, compared to only one in 2008.
Five out of the top 10 global 3G/4G smartphone manufacturers were Chinese in 2014, as opposed to only two in 2011, according to IDC in February 2015.
Achieving milestones
Through defining a shared vision based on investing in industry-leading technology, local relationships and regional talent, we believe the potential exists to reshape the Chinese semiconductor and data center landscape.