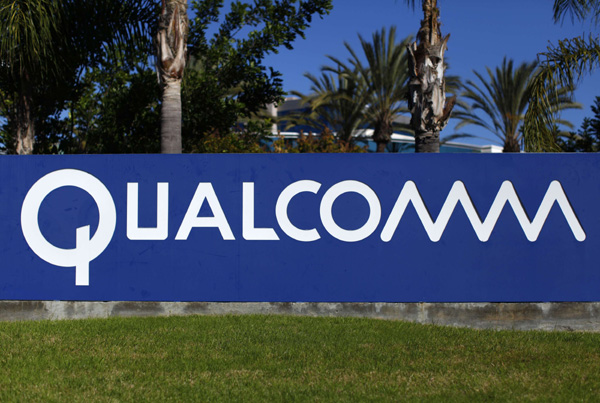 A Qualcomm sign is pictured in front of one of its many buildings in San Diego, California November 5, 2014. [Photo/Agencies]
How do you say "Qualcomm" in Chinese? That may depend on a Shanghai court battle against the team that beat Apple Inc in a similar dispute three years ago.
A local company laying claim to Qualcomm Inc's Chinese-language brand name, Gao Tong, has enlisted Hejun Vanguard Group, the management consulting firm that helped make Apple pay $60 million in 2012 to use the iPad moniker in China. A trademark suit brought against Qualcomm by Shanghai Gao Tong Semiconductor Co is set for a court hearing next month.
"This is a follow-up to the Apple iPad case," said Hejun Vanguard President Li Su. "We must safeguard the dignity of Chinese national brands and defend the legitimate rights and interests of Chinese enterprises."
The trademark case gives Qualcomm a new headache in the world's second-largest economy after it was fined $975 million by the National Development and Reform Commission last month over antitrust violations.
The maker of digital wireless communications equipment said it would not challenge the NDRC ruling, which also imposed conditions on the local royalties it charges on phone sales.
Tina Asmar, a spokeswoman for Qualcomm, declined to comment on the trademark case.
Qualcomm's advanced chips have made it the key supplier of technology to the smartphone boom, although it is facing more competition from companies such as MediaTek Inc and Samsung Electronics Co.
Both the Qualcomm and Shanghai brands use the same two Chinese characters, which translate roughly to "high communications".
Shanghai Gao Tong registered five trademarks containing the characters between August 1992 and January 2004, according to the China Patent Trademark Office's database.
Shanghai Gao Tong is seeking 100 million yuan ($16 million) in damages, according to its June filing in the Shanghai Higher People's Court. Qualcomm's use of the trademark is a form of unfair competition, Li said.
Proview International Holdings Ltd prevailed in a similar case after a two-year legal fight with Apple.