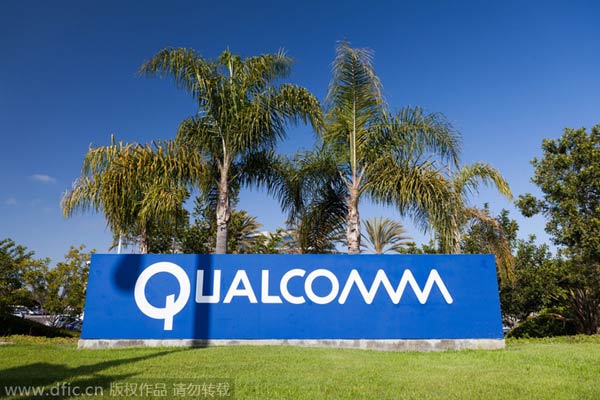 The Qualcomm sign at their global headquarters in San Diego, California. Qualcomm is a global semiconductor company that produces wireless telecommunications products related to wireless networks. [Photo/IC] 
The settlement of China's antitrust probe into Qualcomm Inc is likely to intensify global scrutiny of the firm's highly profitable patent licensing business, and may even call into question its worldwide contracts with smartphone makers such as Apple and Samsung.
China's National Development and Reform Commission (NDRC) is moving to wrap up its 13-month investigation into the US chipmaker as soon as possible, the regulator said in a statement on Friday, bringing to an end one of the most high profile of a slew of such investigations.
Any deal is likely to include a fine, as well as changes to how Qualcomm licenses its technology to handset makers in China, according to industry sources and local press reports.
That could weaken the firm's prized technology-licensing business across the global smartphone industry by increasing pressure from regulators in other countries. Anti-trust probes in Europe and by the US Federal Trade Commission (FTC) may be related to China's investigation, Qualcomm has said.
Royalty changes
Qualcomm is the top patent holder for cellphone technology, including many that form industry standards like CDMA and LTE. Charging royalties based on the cellphones' selling prices, even those made with competitors' chips, provided more than half of its $8 billion net income in 2014.
As growth tapers in developed markets, the smartphone industry has turned to China, where the rollout of LTE technology is driving demand, and where the majority of the world's smartphones are also manufactured.
The NDRC, one of China's anti-trust regulators, has said it suspects Qualcomm of overcharging and abusing its market position in wireless communication standards.