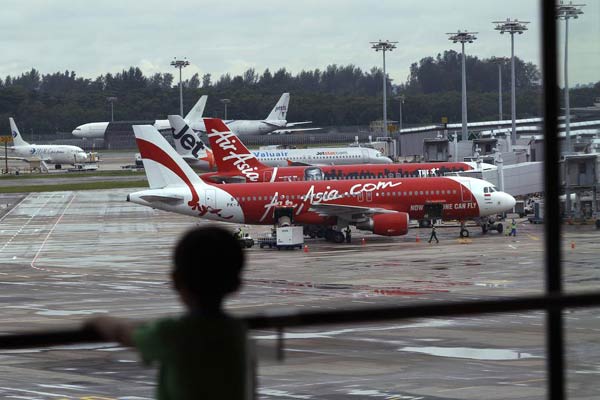 A child looks on at a viewing gallery overlooking AirAsia planes on the tarmac at Changi Airport in Singapore Dec 29, 2014. [Photo/Agencies]
China's rapidly developing low-cost airline sector is unlikely to be affected by the disappearance of an AirAsia Berhad plane on Sunday, as such carriers have a good safety record, experts said.
An AirAsia aircraft with 162 people on board vanished on Sunday morning, 50 minutes after taking off from Surabaya, Indonesia's second-largest city, en route to Singapore.
The carrier has not seen a rush of requests for ticket refunds or a decline in sales in China since the plane vanished, airline official Lin Liyun said on Monday.
Malaysia-based AirAsia, the region's largest low-cost carrier, operates more than 350 weekly flights from China.
The disappearance of Flight QZ8501 caused some to question the safety of the low-cost business model and whether China's low-cost operators will be adversely affected.
However, there is no evidence to suggest that low-cost airlines are not as safe as full-service carriers, and the low-cost sector in China will continue to grow, according to business insiders and experts.
"Almost all the low-cost carriers globally have good safety records, and the AirAisa case is just an accident," said Zhang Wuan, a spokesman for Spring Airlines, China's first low-cost airline.
"The safety standards required by the aviation authorities are the same for low-cost and full-service carriers. Low-cost carriers invest a lot in flight safety."
Spring Airlines' investment in safety is one of the highest among all airlines in China, Zhang said.
The number of Chinese low-cost carriers increased to six this year from just two in 2013.
The country's low-cost carriers run 8 percent of domestic routes, compared with just 0.7 percent in 2006, according to the CAPA Center for Aviation, a global aviation market analysis firm. The growth of low-cost carriers will not be disrupted by the AirAsia case, said Li Xiaojin, a professor of transportation economics at the Tianjin-based Civil Aviation University of China.
Low-cost airlines cut costs and fares by reducing the free services they offer, adding chargeable items and increasing load factors, Li said, rather than lowering safety standards.
Government support for the sector and increasing demand from passengers will continue to drive the development of the low-cost sector in China.
"The domestic low-cost carriers have a large market space in China, though there are also some challenges for them, such as competition from high-speed railway," Li said.