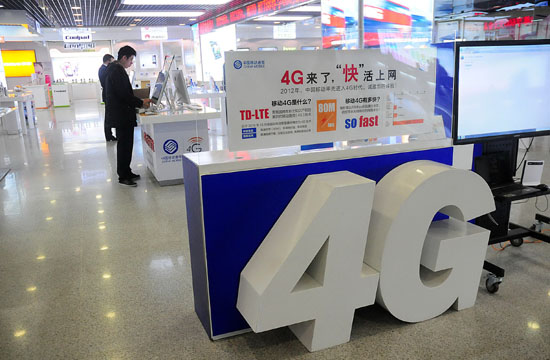 China Mobile's 4G experience center in Hangzhou, Zhejiang province.[Photo/China Daily]
Industry could be worth $434 billion in 2014, a 27% expansion from 2013
China's information sector was worth a record high this year, and will continue to play an increasingly important role in the country's overall economy over the coming 12 months.
Sun Wei, deputy head of the high-tech industry department at the National Development and Reform Commission, told a conference hosted by the think tank, China Center for International Economic Exchanges, that the consumption of information-including sales of electronic terminal devices and information services-could be worth as much as 2.8 trillion yuan ($434 billion) in 2014, which would represent a rise of 27 percent from last year's 2.2 trillion yuan.
"Its development, which is now growing at three times the rate of GDP, has become a new highlight of the economy," said Sun.
Last year, consumption of information contributed 0.64 percentage point to the country's 7.7 percent growth in GDP. By the end of October this year, the number of internet users in China had grown to 650 million, the world's largest national figure, or 47.8 percent of the total population.
The country has also become the world's largest manufacturer of electronic information products. Sun said the government is planning to introduce more measures to boost overall information consumption, including investment incentives aimed at companies in the sector and the emerging industries that support it.
Investment in the construction of network technology facilities exceeded 500 billion yuan this year, said Sun-but that is predicted to triple to 1.5 trillion yuan over the next three years to offset an expected decline in fixed-asset investment, as the government's economic priorities shift within what has now been called its "new normal" era.
Also speaking at the forum, Li Chaosheng, deputy head of the Ministry of Commerce's department of market operation and consumption promotion, forecast that domestic consumption will grow steadily in 2015, but with a slower growth rate.
He said retail sales, however, are still expected to grow 12 percent, a slight fall from the 13.1 percent growth in 2013. "New growth areas will be developed in the consumer market, including the information consumption sector, which will help drive growth along with relatively low inflation," said Li.
Faced with a slowing economy, Li said enterprises in the sector have been experiencing production and operational pressures and a drop in revenues. "Next year, the commerce ministry will continue to boost the development of e-commerce, focusing on six main consumer markets including housing, travel, and elderly care," he said.
According to data from the National Bureau of Statistics, total retail sales hit 23.7 trillion yuan in the first 11 months, a 12 percent annual rise but 1 percentage point lower than the same time last year.