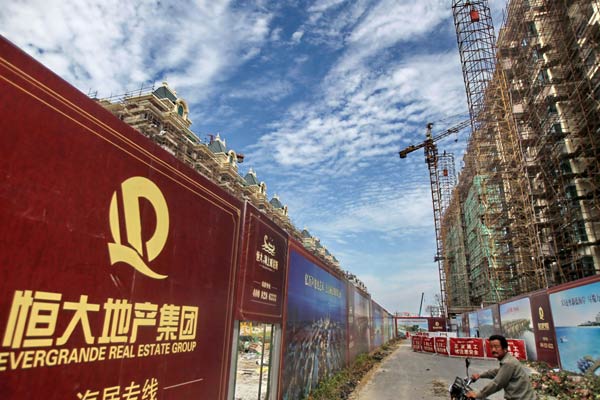 A residential complex developed by Evergrande Real Estate Group in Qidong, Jiangsu province. The Guangzhou-based company recorded transaction volumes of 16.681 million square meters this year. Provided to China Daily
Nearly half of the developers that have filed preliminary 2014 earnings figures with mainland stock exchanges warned of lower profits, underscoring the depth of the correction in the industry.
The trend was especially marked among smaller companies.
As of Tuesday, 36 developers listed in Shanghai and Shenzhen had filed preliminary results for 2014, according to securities information provider Wind Information Co Ltd. Of those, 17 warned of weaker profitability and seven said they were likely to report a net loss.
For six of those seven companies, it would be their first year in the red. All seven are smaller enterprises, which are more vulnerable to a volatile market.
The full picture is yet to emerge, however, as there are more than 140 A-share companies in the sector.
According to the National Bureau of Statistics, property sales fell 7.6 percent by area and 6.3 percent in value last year. Real estate investment growth sank to 10.5 percent, compared with 19.8 percent in 2013.
Zhang Hongwei, chief analyst of To spur Real Estate Consulting, said many developers made a loss because they had spent heavily on land purchases when the market was far stronger. As the market slumped, they had to sell completed units cheaply to reduce inventories and maintain cash flow.
Bigger developers fared far better. According to an annual sales ranking compiled by the China Index Academy, the research branch of SouFun Holdings Ltd, 80 domestic developers reported annual contracted sales of more than 10 billion yuan ($1.63 billion), compared with 71 in 2013.
Seven developers even entered the"100 billion yuan-plus club", compared with six in 2013.
Dalian Wanda Group Co Ltd is the only developer among the seven giants to have released its financial results. Income totaled 242.5 billion yuan, up 30 percent, making 2014 the ninth year in a row of growth in excess of 30 percent. Net profit also increased "significantly", it said.
Woes among smaller developers led to industry consolidation. The concentration rate measured by contracted sales of the top 10 developers increased to 17.2 percent in 2014 from 13.7 percent in 2013, according to private research agency China Real Estate Information Corp.
Glorious Property Holdings Ltd has filed a preliminary figure for 2014 net profit of 2.9 billion yuan, the highest among the 36 companies reporting so far.
However, its shares have tumbled amid rumors linking its chairman to a corruption probe. On Jan 15, Glorious Property denied a domestic media report alleging that controlling shareholder Zhang Zhirong had fled to the United States. The company said that he was still in China.