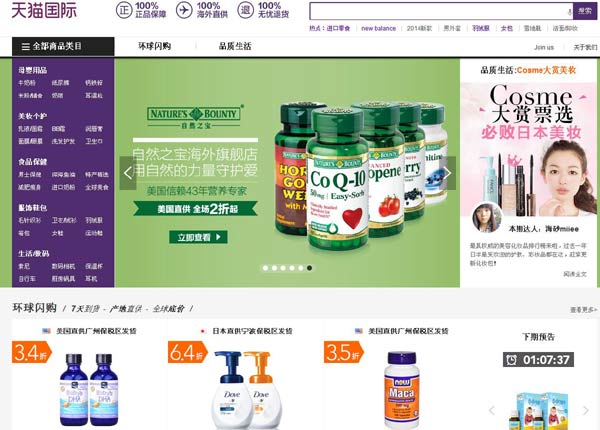 Screenshot of Tmall Global's homepage. [Photo/tmall.hk]
More than 100 overseas brands, including some of Europe's leading supermarkets, are waiting in the wings to set up stores on Tmall Global, the online retail site owned by Chinese e-commerce giant Alibaba Group Holding Ltd.
The site, billed as a dedicated bridge between Chinese online shoppers and overseas retailers, has seen its sales soar tenfold since being launched by the Hangzhou-based Alibaba in February.
Alibaba revealed on Monday that around 5,400 foreign brands from 25 countries have so far set up stores on the platform.
Head of Albaba's business-to-customer division Wu Qian highlighted sales by Costco Wholesale Corp, known primarily for its US membership-only warehouse clubs, as being particularly strong.
Its sales on Tmall Global have, said Wu, "shocked the global retail market," adding that five of Europe's top 10 supermarket chains, including Metro AG, are now preparing to set up stores on the site.
"More than 30 overseas supermarkets and department stores are expected to start operating on our site around the upcoming Chinese New Year, which falls on February 19," she said.
According to figures from Alibaba the most popular goods on Tmall Global are food, cosmetics, and infant and baby products. The recently floated company prioritized international sales during 2014, and said that it expects cross-border e-commerce to become the next trillion-yuan market in China.
Wang Xiaoxing, an e-commerce analyst with the Beijing-based Internet consultancy Analysys International, says China's increasingly wealthy online shoppers are certainly not letting international borders get in the way of buying what they want, "but they are still price-sensitive, and some online shoppers are acting through illegal channels, such as hiring an overseas purchasing agent to buy luxury goods to avoid high import taxes".
Wang said Tmall Global's soaring sales since February were certainly boosted by Alibaba's 24-hour, Nov 11 online shopping festival.
Burghardt Groeber, vice-president for greater China with Hybris AG, the European multichannel commerce software provider, said that online platforms such as Tmall Global will become increasingly important for retailers without a well-established online presence in China.
"I always advise them to be on Tmall. It is the place to be if you want to get visibility and want hundreds of millions of people to be aware of your brands," he said.
He warns companies, however, not to use Tmall as the sole face of their business in China.
"One of the biggest failings of international brands in the Chinese market is losing control of their customer relationship by surrendering too much power to companies such as Alibaba", Wang said, adding firms must use multiple channels to interact and communicate with buyers.