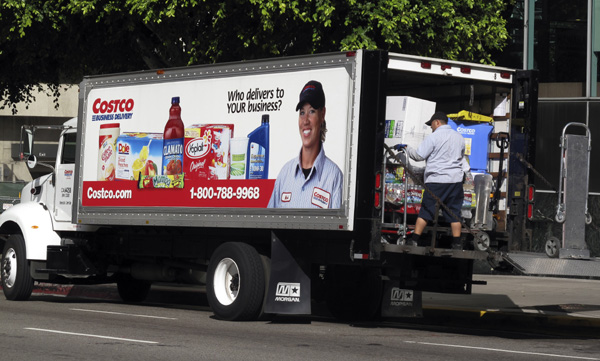 A worker unloads a truck at a Costco store in Los Angeles. Costco will sell food and household items to Chinese consumers on Tmall, the business-to-consumer portal of Alibaba Group Holding Ltd, it announced on Oct 13, 2014. [Photo/Agencies]
It enters China's market without needing capital for physical stores
Costco Wholesale Corp, known primarily for its US membership-only warehouse clubs, is entering China without a store. It will sell food and household items to Chinese consumers on Tmall, the business-to-consumer portal of Alibaba Group Holding Ltd.
The venture announced on Monday will be Costco's first foray into China. David Strasser, an analyst at Janney Montgomery Scott LLC in Philadelphia, said this will let Costco enter the Chinese market without having to put up capital to build stores in the country.
Several Western retailers - including Zara owner Inditex, which is the world's largest fashion retailer; Britain's Burberry and ASOS - have joined Tmall this year to boost their presence in China.
"The Tmall platform allows foreign brands to reach Chinese consumers without a physical presence, while also allowing them to preserve their unique identity and merchandising strategies. This low capital entry will give (Costco) a good look at the Chinese opportunity with nominal capital investment. (Costco) will initially sell food and healthcare products along with private-label Kirkland Signature products," Strasser wrote in a research note provided to China Daily.
Alibaba, founded by Jack Ma in 1999, has grown into one of the largest e-commerce behemoths in the world and now controls 80 percent of all online retail sales in China. The company is coming off its successful initial public offering on the New York Stock Exchange last month, which raised nearly $22 billion.
Costco has reported slowing same-store sales growth for the past three years and has been increasing its online presence to boost sales.
"(Costco) has re-platformed the website, introduced mobile apps, stepped up initiatives to improve online functionalities and added SKUs (store keeping unit or service identification code) across four countries (US, Canada, UK and Mexico), but more is to come, including an entry into one or two new countries over the next year.
"IT spending at (Costco) has risen over the past 2 years, and increases will continue next year, as they more aggressively invest to catch up online," Strasser said in the note.
Costco will introduce new products and brands to Chinese consumers while Tmall.com's bonded warehouse model will help Costco reduce logistics costs and shorten delivery time, the companies said in a press release.
In Asia, there are 19 Costco warehouses in Japan, 11 in South Korea and 10 in Taiwan.