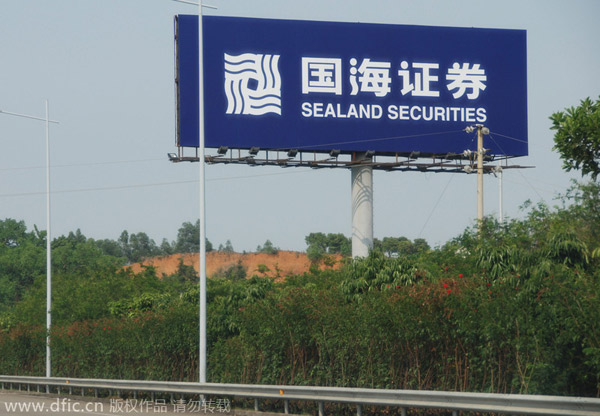 A billboard for Sealand Securities stands by the high way to the airport in the city of Nanning, capital of Guangxi Zhuang autonomous region on April 6, 2009. [Photo/IC]
Two senior executives of Sealand Securities Co Ltd, a leading securities firm in China, have been detained and investigated by authorities, triggering talk of a possibly deepened anti-corruption probe into the country's bond market.
Qi Guoqi, the company's president, has been in criminal detention by the authorities, and Vice-President Chen Liejiang was summoned by the police to assist in the investigation, the company said in a statement.
The charges remain unknown, but analysts said they may be connected to the government's ongoing probe into major brokerages for possible bribery with a focus on bond underwriting. Chen was in charge of the company's fixed-income business before the investigation.
The crackdown on corruption and irregularities in the country's bond market, which started last year, has so far involved several State-owned financial institutions. Senior executives in charge of bond business from companies including CITIC Securities Co Ltd, Haitong Securities Co Ltd and Guosen Securities Co Ltd have been arrested or investigated by the police.
Zhang Dongsheng, former head of the fiscal and financial affairs department at the National Development and Reform Commission, the nation's top economic planner, has also been investigated in relation to corporate bond issuance dating back to 2005.
Reports said that the NDRC has suspended the approval of corporate bond issuance in the wake of the probe. But the commission denied the reports on Wednesday.
"The approval process runs normally at present. It (the suspension) was because some companies were required to provide additional documents," an NDRC spokesman told China Daily.
The investigation into Sealand Securities seems to have caused no immediate impact on the company's stock price, which rose by 0.9 percent on Wednesday. The company said it is operating normally despite the detention of its senior executives.
Based in Nanning, Guangxi Zhuang autonomous region, the securities company was ranked 17th in terms of net income from businesses like underwriting of securities, sponsoring share sales, and providing advisory services for mergers and acquisitions in 2013, according to the Securities Association of China.
Analysts, however, expressed concern that the window for the issuance of corporate bonds might be temporarily closed amid the anti-corruption investigations although the NDRC has denied it.
Companies raised 444.69 billion yuan ($72.5 billion) in the corporate bond market in the first half of this year, a 42.5 percent increase from the same period of last year.