Another senior official of oil giant China National Petroleum Corp has been detained by the authorities, which shows that the anti-corruption campaign in the energy sector has not ended following the announcement of an investigation into retired Party leader Zhou Yongkang.
Wang Lixin, head of the discipline and inspection department at the State-owned company, has been held for investigation since late September, according to Bloomberg News, which quoted two officials who requested anonymity because the information is not public.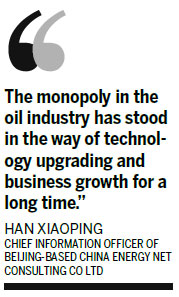 As the country's biggest oil and natural gas producer, CNPC has been a major target of the anti-graft campaign since August 2013.
Wang, 60, is the fourth official who is under investigation among CNPC's Party members.
Three other senior officials were also under investigation: Wang Yongchun, Li Hualin and Wen Qingshan. The State-Owned Assets Supervision and Administration Commission announced in August that the three officials were being investigated for violations of regulations.
Wang Yongchun was deputy general manager of CNPC. He also headed the country's largest oilfield, Daqing, in the northeastern province of Heilongjiang, since 2008.
Li was deputy general manager of the CNPC Group and Wen was the company's chief accountant.
Besides the three senior Party members, Ran Xinquan, vice-president of PetroChina Co, CNPC's listed arm, and head of the Changqing oilfield, was also detained by the authorities for investigation.
Wang Daofu, chief geologist of PetroChina and president of the Research Institute of Petroleum Exploration and Development, is also under investigation.
Bo Qiliang, vice-president of PetroChina, who was in charge of the company's overseas businesses, was detained for investigation in May.
As a former Politburo Standing Committee member, Zhou was the highest-level official detained in the drive to tackle corruption in the hierarchy.
When the authorities announced Zhou's investigation in July, the capital markets expected an end to the anti-corruption battle in the oil industry. The investigation into Wang means it is still far from ending.