The proliferation of smartphones and fast adaptation of 4G technologies have enhanced mobile e-commerce experiences for Chinese consumers and opened new growth vistas for mobile Internet and payment companies.
According to data gleaned from the 2014 China Mobile Internet Report, prepared by iResearch, an industry consultancy, China had a mobile Internet population of over 500 million in 2013, with an Internet penetration rate of over 81 percent. Mobile marketing revenue surged to 15.52 billion yuan ($2.5 billion) last year, a year-on-year increase of 105 percent.
Mobile shopping accounted for 38.9 percent of the mobile Internet revenue in 2013, and its share is expected to reach 46.3 percent by 2017.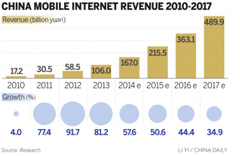 Statistics released during the 2014 China Electronic Commerce Expo show that about 37 percent of Chinese smartphone users ordered food using their phone, while 35 percent used the instrument for trading stocks. More than 71 percent of smartphone users in China have had mobile shopping experiences, it said.
When it comes to online purchase intentions, Chinese consumers are the global leaders, says a recent study conducted by global information provider Nielsen. The study was based on responses from 30,000 people in 60 countries. For 18 out of the 22 categories, China had the highest percentage of respondents who were willing to make online purchases, the survey said.
"The rapid penetration of smartphones and Internet, combined with the comprehensive buildup of shipping logistics infrastructure, is quickly transforming the shopping habits and mindsets of Chinese consumers on e-commerce," said Patrick Dodd, managing director of Nielsen China.
China also has a higher percentage of online purchases than just browsing. This, according to Dodd, indicates that more Chinese consumers are keen on actual transactions, rather than just research.
"Out of the countries surveyed, China is one of the farthest on the e-commerce maturity curve. Tech-savvy Chinese consumers have embraced the convenience of both online shopping and purchases, and this shows their confidence in the channel," he said.