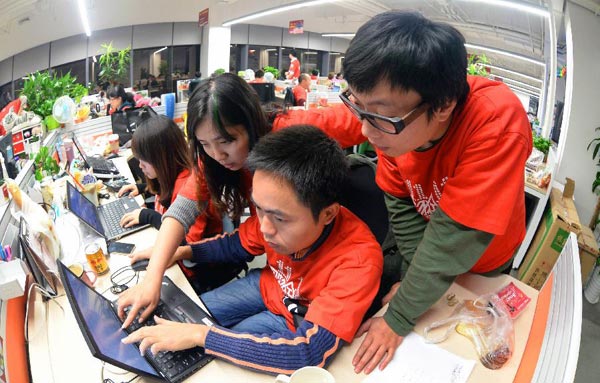 Staff members work at the headquaters of Taobao in Hangzhou, capital of East China's Zhejiang province, Nov 11, 2013.[Photo / Xinhua]
Increased sophistication of online shoppers is transforming the e-commerce sector in China from "price-driven" to "service-driven", according to the Online Shopper Tren
ds
report by The Nielsen Co.
The global consulting firm's report, released on Friday, said that apart from concentrating on the price advantages offered by e-commerce platforms, the more sophisticated Chinese consumers are also browsing for additional online shopping advantages that suit their individual requirements.
Online shoppers from China also tend to research products thoroughly, by making online and offline comparisons, before actually making an online purchase, the report said.
Patrick Dodd, managing director of Nielsen China, said: "All of these signs indicate a transformation in China's e-commerce, from 'price-driven' to 'service-driven' thanks to the increasing maturity of Chinese online shoppers."
A large contributing factor to the transformation has been the increase of "rational" Chinese online shoppers, who are mostly between 26 and 30 with good income and a desire for high-quality products.
Based on an online survey of 4,500 respondents, the report said the ratio of rational online shoppers increased by 5 percentage points to 29 percent this year.
These savvy online shoppers care more about convenient and safe payment, high-quality products and reliable online reviews. While they have the money and desire to make high-end purchases, they sometimes decide against the purchases due to mistrust of the sellers or quality concerns in the e-commerce environment, the report said.
"The increasing number of rational online shoppers is absolutely a good signal for China's e-commerce market as it helps push the development of the nation's e-commerce market, encouraging a healthier and more sustainable e-commerce environment," said Dodd.
For three other types of online shoppers, price-sensitive shoppers stayed the same at 16 percent, while potential online shoppers and online dependent shoppers saw small drops of 2 and 3 percentage points to 32 percent and 26 percent, respectively.
The report also found that online shoppers like to share their opinions, with more than 40 percent of online shoppers saying they are willing to share their shopping experiences and product reviews through WeChat or other instant messaging tools.
"Just as you cannot use a 'one-size-fits-all' marketing strategy to resonate with all consumers in today's China, the growing online shopper base must be segmented as not all shoppers want the same online experience," said Dodd. "Only by deeply understanding the key online shoppers, can brands and e-tailers be best-positioned for online success."
Meanwhile, the report also found that smartphones have played a big role in boosting online purchases. It was the only device to gain in online shopping penetration, jumping to 57 percent from 53 percent.
More online shoppers are using online retailers' exclusive shopping apps, surging to 61 percent from 53 percent in 2013.