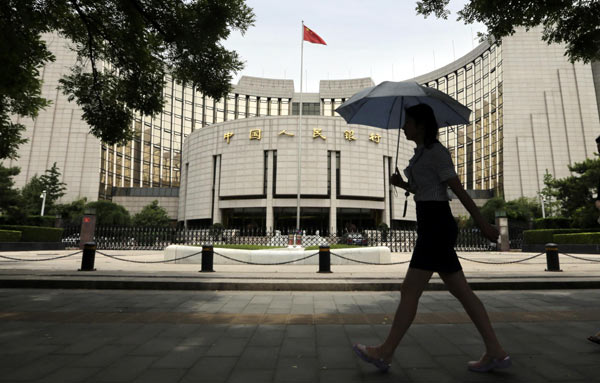 A woman walks past the headquarters of the People's Bank of China (PBOC), the central bank, in Beijing, in this file picture taken June 21, 2013. [Photo/Agencies]
Entrepreneurs' confidence declines and casts doubt over willingness to invest
Business confidence among Chinese entrepreneurs fell in the third quarter, marking the third consecutive quarter of decline, a central bank survey showed on Friday.
The result throws fourth-quarter growth prospects into question, given that lower confidence may mean a reluctance to invest in an uncertain environment.
The People's Bank of China said the entrepreneurs' confidence index slid to 63.6, down by 1.3 points from the second quarter.
The central bank surveys 5,000 entrepreneurs, 3,100 bankers and 20,000 households on a quarterly basis.
The PBOC report followed other official data released earlier this month, which indicated that economic growth probably weakened further in August.
For example, industrial output growth last month fell to a six-year low of 6.9 percent.
Despite the slowdown, 79.5 percent of bankers in the survey said that monetary policy settings are appropriate, up from 72 percent in the second quarter.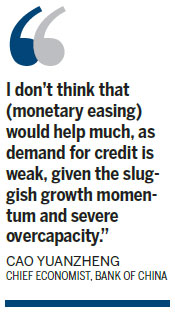 Officials have maintained that current conditions do not justify an across-the-board interest rate or required reserve ratio cut. The Xinhua News Agency said in a recent commentary that calls for broad monetary easing were tantamount to "a distrust in the government's ability to push forward reform".
Nonetheless, the PBOC this week reportedly injected 500 billion yuan ($81 billion) into the largest banks, which effectively meant a 0.5 percentage point cut in the reserve requirement ratio.
But the central bank survey offered fresh evidence that credit demand is weak, which might undercut the effect of any liquidity injection. Among surveyed bankers, the overall credit demand index fell by 4.9 points to 66.6, the lowest since the third quarter of 2012.
"I don't think that (monetary easing) would help much, as demand for credit is weak, given the sluggish growth momentum and severe overcapacity," said Cao Yuanzheng, chief economist with Bank of China Ltd.
Cao argued that a more proactive fiscal policy would be better at shoring up demand.
Households that took part in the survey welcomed tame inflation levels. Sentiment regarding jobs and personal financial conditions improved as well, with 59.5 percent saying that housing prices were unacceptably high, a decrease from 63 percent in the second quarter of the year.