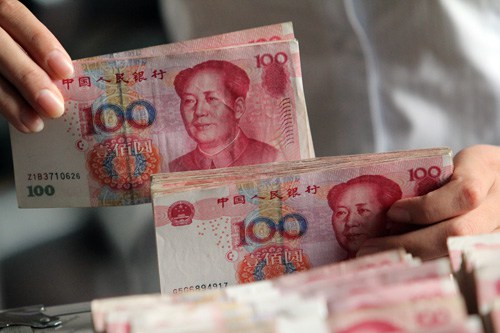 A clerk from a rural credit cooperative in Linyi, Shandong province, counts banknotes. [Photo/bjreview.com.cn]
BEIJING -- China's central bank has injected 500 billion yuan ($81 billion) into the nation's five major state-run commercial banks to bolster flagging economic growth, the head of one of the banks told Xinhua on Friday.
In an interview, Wang Hongzhang, chairman of China Construction Bank (CCB), confirmed recent media reports that the People's Bank of China began releasing the funds on Tuesday under its standing lending facility (SLF), a liquidity support tool, for a three-month period.
Commercial banks have long complained about the high reserve requirement ratio (RRR) as their loan-issuing capabilities have been limited. The SLF move, which can be translated into a 0.5-percent lowering of the RRR, is meant to encourage more lending, analysts have said.
The central bank has not confirmed the reports, however.
Wang, a veteran banker in China, deemed the SLF move part of the implementation of the country's prudent monetary policy, saying the CCB would continue to pay attention to and assess the impact of the 500 billion yuan on liquidity in the market.
However, he said his bank did not yet have demand for liquidity replenishing. "At present, CCB has ample liquidity, so there's no need to add more liquidity."
As to whether the CCB has got 100 billion yuan out of the 500-billion-yuan SLF, as reported by some media, Wang said, "It is under discussion."
The SLF move follows recent weak economic data suggesting continuing downward pressure on economic growth.