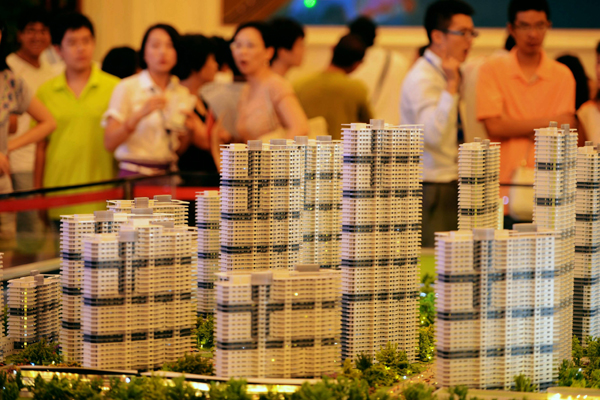 Potential homebuyers examine property models on Saturday in Qingdao, Shandong province. Lending to developers has risen in recent months as the central bank prods financial institutions to reactivate the property market. [Provided to China Daily]
Central bank wants more mortgages to be processed for first-time homebuyers
Lending to developers has risen in recent months as the central bank prods financial institutions to reactivate the property market, which has been hit by sagging sales and falling prices.
Wen Bin, principal researcher at China Minsheng Banking Co Ltd, said that the housing market is clearly overstocked, so commercial banks increased lending to the sector after the People's Bank of China told them in May to speed up mortgage approvals, mainly to first-time buyers.
Previously, many banks preferred to lend to commercial projects at higher interest rates than mortgages command, especially when banks had limited funds. They are more willing to lend to large companies or small businesses than to homebuyers, Wen said.
But the situation has slowly changed in recent months as the government presses banks to help the housing sector.
Real estate lending totaled 16.2 trillion yuan ($2.6 trillion) as of June 30, up 19.2 percent from a year earlier. Of the total, individual mortgages were up 18.4 percent at 10.74 trillion yuan, while property development loans increased 23.7 percent to 4.04 trillion yuan, the PBOC said.
Lending for affordable housing development hit 969.4 billion yuan on June 30, up 47.3 percent year-on-year. Such lending expanded by 240 billion yuan in the first half, accounting for almost half of the growth of real estate development loans during the period, the PBOC said.
On the consumption side, six banks cut mortgage rates for first-time buyers in August, according to Rong360, an online financial product search platform for small businesses and individuals.
China Everbright Bank Co Ltd and Bank of Communications Co Ltd cut their mortgage rates to the PBOC benchmark lending rate from 5 percent above it.
Rates vary by the length of the loan, but the PBOC benchmark rate for a five-year mortgage is 6.55 percent.
HSBC Holdings Plc offers a discount of 8 percent from the benchmark rate to buyers who borrow more than 2.5 million yuan. Those who borrow less get a 6 percent discount, according to Rong360.
At the same time, most of the 46 cities that imposed property purchase limits have eased or lifted them.
Wen said: "More and more cities, particularly second- and third-tier cities, will loosen their grip. But whether Beijing, Shanghai and Guangzhou will do so remains to be seen.
"Judging from the current changes in the housing market, they are unlikely to lift property purchase limits this year."
Over the weekend, there were rumors that China Construction Bank Corp's Shanghai branch might relax its mortgage conditions.
However, the branch denied that any changes had taken place in a note sent to China Daily on Tuesday.
Wen said the demand for real estate investment will weaken further in the medium to long term and housing prices will rise more slowly. Some third-tier cities that have a glut of empty homes will even witness price drops.