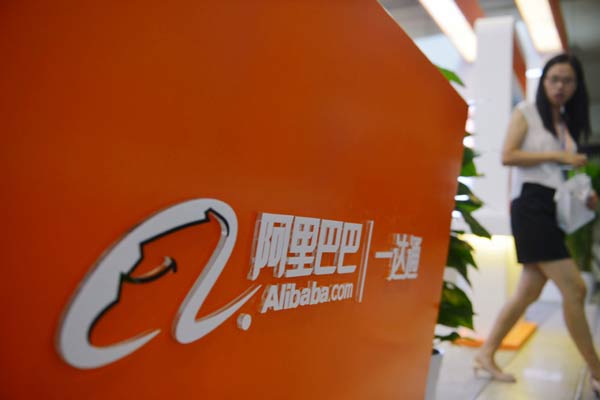 The booth of Alibaba Group Holding Ltd at an exhibition in Hangzhou, Zhejiang province, last Tuesday. Alibaba's IPO in the United States has been forecast to raise as much as $24 billion. LONG WEI/CHINA DAILY
Alibaba Group Holding Ltd's high-profile initial public offering on the New York Stock Exchange is just days away, with trading expected to commence on Friday.
The IPO has been forecast to raise as much as $24 billion, which will make the IPO the largest in history.
Investor attention and probable attraction has been heightened by the relatively conservative initial share price set at $60 to $66.
Alibaba could be valued at about $170 billion and sit firmly in the top 25 companies in the S&P 500 index.
But amid the impressive figures and the frenzy surrounding this flotation, would it not pay for the investment community to take a rather cautious and wary approach?
In the very short term, it is difficult to foresee anything other than a sizable gain on any investment.
The initial share price, which could rise slightly shortly before the float, is widely regarded as a deliberate move to raise investment interest.
But once the euphoria fades and attention switches to rational analysis, major concerns over Alibaba's medium- to long-term competitiveness may emerge.
One of the major concerns is the complex and opaque nature of Alibaba's ownership structure and accounting practices.
For example, what are the real relationships among the 29 companies Alibaba has bought during the past two years and the group's overall, impressive profit record?
Market growth is also slowing in China, and Alibaba's initial, tentative overseas forays have not yet led to major success.
The rapid growth in market share and profitability enjoyed by Alibaba may be replaced by far more modest gains where consolidation takes priority over entrepreneurial endeavor.
Alibaba's success in the Chinese mainland has been built on an "architecture of trust" that has empowered consumers and businesses with its reliable online payments and related services.
China's e-commerce industry is still hampered by deep mistrust, except for Alibaba.
However, things are very different in the lucrative United States and European markets where strong competitors such as Amazon.com Inc already have well-entrenched market positions and strong corporate brands.
Many Chinese companies that have global ambitions also have low brand awareness among foreign consumers, and Alibaba is no exception.
Most consumers in other countries who are aware of the Alibaba brand mostly think of its charismatic leader and co-founder, Jack Ma.
Ma's undoubted charm and ability to attract media attention with his passion for business will probably boost Alibaba's initial listing and may well lead to a short-term burst on the NYSE.
But is this style of leadership most suitable for the analysis and planning now needed to secure successful entry and growth in increasingly competitive markets?
The fears of investors looking at the longer term will only be assuaged if Ma can be seen to quickly build a senior management team based on international market knowledge and experience.
Clearly, Alibaba's IPO will generate tremendous excitement, but long-term growth prospects remain cloudy, and investors should proceed with caution.
The author is a visiting professor at the University of International Business and Economics in Beijing and a senior lecturer on marketing at Southampton Solent University's School of Business. The views do not necessarily reflect those of China Daily.