Prior to this month's planned listing on the New York Stock Exchange , Alibaba Group had pulled out of the Hong Kong stock exchange 2 years ago. Experts say the Hangzhou-based internet giant, is due for more changes as it acclimatizes to a new regulatory environment in the US.
In 2011, a US Trade Representative listed Taobao.com, a website owned by Alibaba, as "one of the biggest online fake sources around the world".
But with Alibaba planning a listing on the New York Stock Exchange later this month, experts say the company should be ready for possible consequences.
"Alibaba will face a different legal regulatory environment after its IPO in US. Though it is listed as a company under Chinese jurisdiction, it will fall under US scrutiny after the IPO and be subject to the same requirements of US companies for lawsuits," Ran Ruixue, lawyer with Junhe Law Firm In Beijing, said.
With Alibaba's competitors vying for market share in the increasingly competitive mainland market, the company's US IPO is set to fuel expansion for e-commerce growth outside China.
Back home, Internet portal Tencent and search engine Baidu are teaming up with property and leisure conglomerate Dalian Wanda, to launch an e-commerce joint venture. The tie-up is intended to have consumers purchase physical goods within a close proximity via the use of smartphones, in a practice known as the online to off-line market.
Alibaba's mobile monthly active users are 188 million, while Tencent claims half a billion users on its QQ smart platform which are able to support online payments. Separately Its messaging platforms wechat have more than 400 million users.
"The competition is getting increasingly fierce, and companies will be battling each other to advance technological innovation, and secure the loyalty of customers," Prof. Hu Bin with Chinese Academy Of Social Sciences said.
But Alibaba is still playing a dominant role in the market. In the second quarter period for this year compared to 2013, it saw a ten fold increase in online sales from mobile devices, which drived revenues to 46 percent higher, and contributed to a third of overall sales in the same period.
The IPO is expected to start later this month, with BABA as the ticker symbol.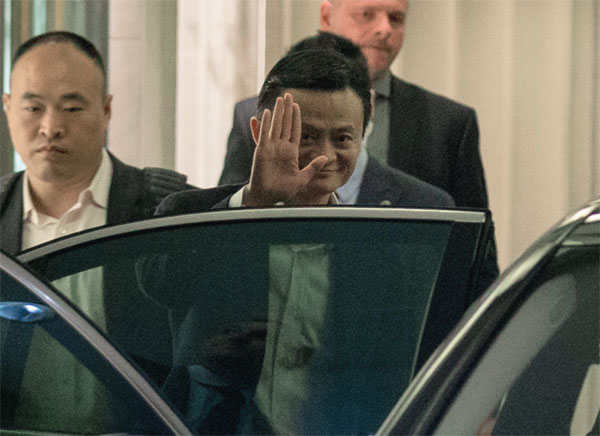 Jack Ma, founder and executive chairman of Alibaba Group Holding, waves as he leaves the company's IPO roadshow launch in New York City on Monday. Brendan McDermid / R
eu
ters