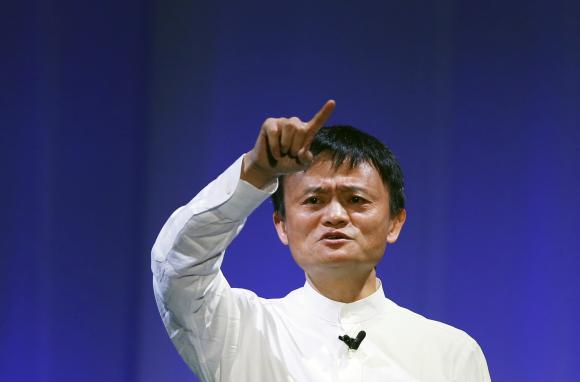 Jack Ma, the founder and executive chair of Alibaba Group Holding, speaks during the SoftBank World 2014 event in Tokyo July 15, 2014.[Photo/Agencies]
When a fast-growing private equity firm co-founded by Jack Ma sought funding from institutional investors for the first time in early 2013, almost all had one major concern, its chairman said: was the firm independent from Ma, the influential executive chairman of Alibaba Group Holding, China's e-commerce giant.
The investors were worried that Yunfeng Capital might not put their interests first, said David Yu, a long-time friend and business associate of Ma, speaking to Reuters in a rare interview at his Hong Kong office on July 3.
Yu said the independence of Yunfeng from Ma was "the number one concern institutional investors had".
He named several high-profile investors that came on board after getting assurances Ma played no direct role in Yunfeng's investment decisions.
However, four other institutional players told Reuters they opted out because they said they were worried Ma's role as one of China's most active private investors could conflict with his responsibility to Alibaba shareholders. They declined to be identified because their talks with Yunfeng were private.
"You can look at Yunfeng and you can say there are clearly a lot of synergies with Alibaba and Jack Ma, but you can also say it's a clear conflict of interest. It's a double-edged sword," said one person whose firm turned down an opportunity to invest.
To be sure, it is not unusual for successful businessmen in China or elsewhere to invest personal wealth in private equity and venture capital firms. In Silicon Valley, lines between entrepreneurs and their companies can also become blurred, leading to complaints about conflicts of interest.
Yunfeng still raised $1.1 billion for its latest fund, but its challenge attracting institutional investors underscores the long-standing concerns some investors have had about Ma as he prepares to take Alibaba public next month in a New York IPO that could raise more than $15 billion.
Alibaba acknowledged the broader issue of potential conflicts in its IPO prospectus issued on May 6, saying that given Ma's other roles it could not guarantee he would "act in the best interests of our company should any conflicts of interest arise".
Alibaba declined to comment or make Ma available for an interview for this story.